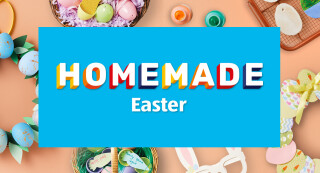 Make every year a hoppy homemade Easter
The best Easters are full of things we create, make and bake. And we're always thinking of great ways to do just that, from crafting your own Easter decorations to baking some bunny breads. Come back nearer the time for lots more homemade Easter fun and deliciousness.
Come on! Let's make and create
We've come up with lots of creative and crafty ideas for you and the kids to enjoy this Easter. Colourful, fun activities that will make the holidays even more special. You'll definitely need some glue and a few handy bits and bobs.
How to make colourful salt dough eggs
Step 1: Prep and mix
Pre-heat the oven and mix 1 cup of plain flour (250g) and half a cup of salt (125g) in a large bowl. Add half a cup of water (125g) and stir until it comes together into a ball.

Steps 2 & 3: Shape and bake
Roll out your dough and cut into eggs. Make a hole at the top to thread ribbon through. Place onto a non-stick tray and pop them into the oven for 2-3 hours or until solid.

Step four: Time to decorate!
Try a rainbow, stripes, or even paint a bunny onto it! Seal with PVA glue and wait for it to dry. Then pop a ribbon through the hole and hang up around your home!
Easy-peasy paper plate wreath
Let's create!
Cut out the inside of your paper plate, so the outer portion is intact. Use your egg stencil to cut out paper eggs, then stick to the outer portion of the plate. Make a bow with ribbon and glue to the top of the wreath. Hang wherever you want.
Adorable Easter crafts
Kids love Easter time activities. And we've got 3 quick and easy craft ideas to help them have some extra Easter fun – Easter Bonnets, Easter Ears and Easter Pom Pom Bunnies. Find out how to make by downloading our Easter Crafts Guides.
Let the hunt for rewards begin!
This year why not let them hunt for rewards instead of chocolate? Pick up your reusable eggs in store. Fill with rewards and prizes. Then keep them all for next year! Try stickers and balloons, screen time or watching a film. Download and print our handy rewards for more inspiration.
Cut out some Easter Shapes

Write a reward on each

Fill the eggs with rewards

Hide around your house and garden
We'll give you a clue!
Our handy printable clues will help you give them the ultimate Easter hunt around the house and garden. Don't forget to pop a piece of gold card inside one egg. Whoever finds the Golden Egg can win one of our fabulous golden gift ideas below.
Golden gifts
It might be the prize at the end of the Easter egg hunt or just a great gift for your family and friends this Easter. Choose from luxury chocolate eggs, to cute bunny toys and award-winning ice-cream chocolate eggs.
DIY Easter décor
All you need is some great ideas, lots of glue and a few handy bits and bobs to inject a little colour, style and personality into your home this Easter. Use everything from old ribbons, fabric scraps and cardboard boxes to make amazing holiday decor. Here's a few Easter DIY ideas to try.
A wonderful Easter Wreath
Great for the front door or hallway, this beautiful rattan Easter Wreath is the perfect way to welcome guests. All you need are DIY painted eggs, a hot glue gun, rattan grapevine wreath base, ribbon, card, pencil and scissors.
Here's how to make

1. Draw a leaf shape onto your card. Cut out and use as a stencil.

2. Arrange your leaves and eggs around the wreath base. Then attach with your glue gun.

3. Make a loop with a length of ribbon and attach it to the back as a hook.
Easter Baking with the kids
Did someone say baking? What could be more fun than donning a pinny and letting the kids enjoy some simple home baking? From zingy Easter Chick Cupcakes to classic Gingerbread Eggs and an easy Rocky Road Chocolate Tray Bake. Let's bake!
Easter Chick Cupcakes

Gingerbread Eggs

Rocky Road Chocolate Tray Bake

Unicorn Blondies
Let's bake!
Here's 2 fantastic recipes from our Junior Taste Kitchen that the kids will love to make – yummy Rocky Road and easy peasy Bunny Cheese Biscuits.