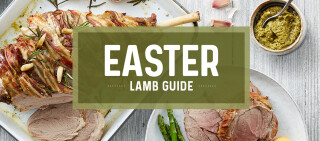 How to cook the perfect Easter lamb
When a meal means a lot, it deserves the best of British. Learn more about our amazing range of fresh, British Lamb Legs and head down to your local Aldi to get yours in time for the weekend. In store from 15th April. Hurry while stocks last!
Prepare your lamb
We'll show you how to set out the perfect Easter feast with a succulent British lamb. Follow our simple guides on cooking times, top tips and serving suggestions to impress your family and friends with a meal they'll talk about all year.
Leave your meat out of the fridge for an hour to come to room temperature before cooking.

Cut some slashes in the lamb before cooking and stuff with peeled garlic cloves, sprigs of rosemary or just salt for flavour.

Always pre-heat your oven before you cook and place the lamb joint in the middle of the oven.

When the joint is cooked, allow to rest, covered with some loose tin foil to allow the meat to settle before carving.
Cooking times/temperatures
Leg of Lamb and Half Legs of Lamb
Allow 25 minutes per 500g, plus 25 minutes
180°C/350°F/Gas Mark 4
Shoulder of Lamb (half or whole)
Allow 40 minutes per 500g, plus 40 minutes
170°C/325°F/Gas Mark 3
If using a thermometer
55°C– rare
60°C – medium
65°C – medium well
72°C – well done
Serving sizes
For lamb on the bone allow 450g per person
One whole leg of lamb is usually between 2-2.5kg
A small leg of lamb would be suitable for 6, a larger will serve 8
Half legs of lamb are perfect to serve 4
Lamb Taste Kitchen
Learn how to prepare your Easter lamb like a professional. The Taste Kitchen is full of useful guides and top tips videos to help you through every step. Start with lamb tips and lamb sides below.
100% British Lamb
Every West Country leg of lamb you'll find in our stores is sourced from Britain's finest farmers. Take one home this Easter and you'll be amazed by the taste, quality and value. Pick up your perfect lamb in store.