Enjoy a brilliantly British Easter Roast for 2022
Beautifully tender British lamb, chicken and beef were just some of the brilliant roasts that made our Easter 2021 range simply unforgettable. As we look forward to what we have in store for Easter 2022 why not head into your local store and check out our latest seasonal ranges.
Check back nearer the time for our range of Easter 2022 British meats.
How to cook the perfect Easter lamb
Juicy, moist, tender and bursting with freshness. With our helpful 'how to' tips you'll be able to cook your beautiful British lamb joint to perfection.
The best way to ensure even cooking is to take your lamb out of the fridge for an hour before cooking and warm to room temperature.

For a juicy herb flavoured roast all you need to do is slice a few times through the lamb and stuff with fresh garlic, aromatic sprigs of roughly-chopped rosemary, butter and salt.

To ensure your leg of lamb is extra moist and cooked to perfection, pre-heat your oven before you cook and place lamb joint in the middle of the oven.
A brilliantly British Easter roast
Classic chicken, succulent beef, stuffed duck and crispy pork roasts make an Easter holiday unforgettable. Enjoy them with your family.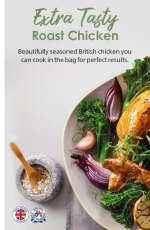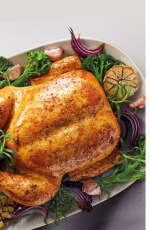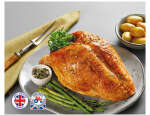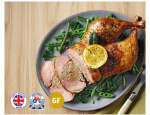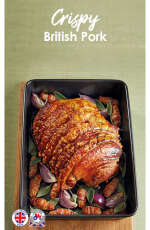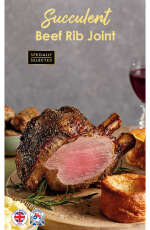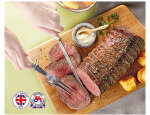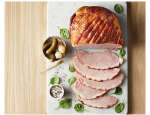 Easter timings and temperatures
Lamb, beef, chicken or pork – find out at a glance how to cook your Easter roast to perfection.
Preheat oven to 180c/350f/gas 4. Roast for 25mins per 500g plus 25 mins (medium - 60c) or 30mins per 500g plus 30 mins (well done - 70c).Cover and rest for 30 mins. Half leg of lamb – Leave to rest for 20 mins before carving.

Preheat oven to 200c/400f/gas 6. Roast for 20mins per 500g (Medium rare -55c), 25mins per 500g (medium - 60c), 30/35mins per 500g (well done - 70c).Cover and rest for 30 mins.

Preheat oven to 200c/400f/gas 6. Cook for 25mins per 500g. Pierce thigh with a skewer to see if the juices run clear. If they are pink – return to the oven and cook another 15 mins.A meat thermometer in the thickest part of the thigh should read 75c.

Preheat oven to 220°C/Gas Mark 8. Cook for 30 mins then lower to 180°C/Gas Mark 4. Cook for 35 mins per 500g plus 35 mins more. Pierce the middle to see if juices are clear.Rest for 20 mins. If pink, cook for 15 mins more. Temp should be 70°C.
Sensational seasonal sauces
The finishing touch for any roast is a delicious sauce. And with minimum effort you can make every mouthful even more worthwhile. Rich, tangy or fruity.
Fresh Mint Sauce

Complete your feast with this super quick and easy homemade sauce made with fresh mint, sugar and vinegar.

Apple & Cider

Intensely rich apple and cider sauce. Enjoy it with your British roast gammon this Easter.

Salsa Verde

Make your meat zing with an authentic Salsa Verde packed with fresh parsley, basil, spring onions, garlic, gherkins and chilli.
Deliciously easy sides
Easter with all the trimmings. Who doesn't want to delight in all the freshness, texture and flavour Easter has to offer? Make this year extra special and fuss free with our ultimate range of ready-made sides.
Home-cooking inspiration from the Taste Kitchen
Our simple video tutorials are a great way to discover how to cook the perfect Easter roast. Find all the inspiration you need, as well as step-by-step hints and tips.
3 amazing Easter roast recipes
Try one of our minimum effort, maximum flavour recipes for the ultimate Easter feast.