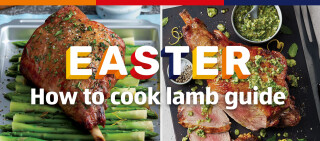 How to cook the perfect Easter lamb
If you like the taste of succulent British lamb at Easter, then you'll like what we've got in store at Aldi. We source our legs of lamb from the best farmers and suppliers across the UK, so you can be sure you're getting value, quality and taste for your big Easter meal. We've even got a few tips on how to cook the perfect roast too.
†Maximum 2 per customer. *We guarantee to match the lowest prices (excluding multi-buys) on these products in UK supermarkets. Prices checked daily at Asda, Sainsbury's, Tesco, Morrisons, Lidl, Co-op, Marks & Spencer, Waitrose and Ocado between 6 April 2020 and 11 April 2020. Price changes may take a few days to come into effect. If you can provide proof of a lower price at any of these supermarkets on the date of your purchase we will match that price.
Prepare your lamb
We'll show you how to set out the perfect Easter feast with a succulent British lamb. Follow our simple guides on cooking times, top tips and serving suggestions to impress everyone around the table.
Leave your meat out of the fridge for an hour to warm to room temperature before cooking.

Cut some slashes in the lamb before cooking and stuff with peeled garlic cloves, chopped sprigs of rosemary, or just salt, for flavour.

Always pre-heat your oven before you cook and place lamb joint in the middle of the oven.

When the joint is cooked, allow to rest, covered with some loose tin foil to allow the meat to settle before carving.
Cooking times/temperatures
Leg of Lamb and Half Legs of Lamb
Allow 25 minutes per 500g, plus 25 minutes
180°C/350°F/Gas Mark 4
Shoulder of Lamb (half or whole)
Allow 40 minutes per 500g, plus 40 minutes
170°C/325°F/Gas Mark 3
If using a thermometer
55°C– rare
60°C – medium
65°C – medium well
72°C – well done
Serving sizes
For lamb on the bone allow 450g per person
One whole leg of lamb is usually between 2-2.5kg
A small leg of lamb would be suitable for 6, a larger will serve 8
Half legs of lamb are perfect to serve 4
Lamb Taste Kitchen
Learn how to prepare your Easter lamb like a professional. The Taste Kitchen is full of useful guides and top tips videos to help you through every step. Start with lamb tips and lamb sides below.
Fresh, delicious and British
"I really enjoy our way of life. Working outdoors as a family ensuring the highest welfare by being hands-on with our sheep. I started with a flock of 30 sheep and now farm 600 mule ewes. We hope our customers enjoy the taste." Mark Blakeney, Wiltshire