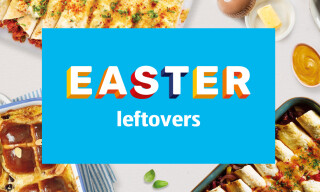 Delicious ways to eat up those Easter leftovers
Epic desserts, comforting mains and plenty of flavoursome recipe inspiration. We're always thinking of new ways to use up leftover Easter food – tasty meals that can help you save a few pennies on your weekly shop.
Make the most of Easter leftovers
Made too many carrots? Got some leftover lamb? Wondering what to do with your last bit of pork or salmon? Leftovers are your friend, especially after a delicious Easter roast. Try our glorious Yorkshire Pudding Wraps or an exotic Lamb Pilaf.
Chocolate 3 ways
Here's how to make the most of all that leftover Easter chocolate – start with an indulgent Chocolate Lovers' Dessert and let the kids help with this super easy Rocky Road Chocolate Tray Bake. Be inspired.
Amazing hot cross bun recipes
With so many terrific twists on hot cross buns, there's no need NOT to use them up. In fact, you might be hoping for a few extra buns, just so you can give all these delicious dishes a try.
Get ready for the parade!
Let the kids craft their own Easter bonnet. Just find lots of fabulous Easter ribbons, fluffy toys, feathers and flowers – anything Easter-y. Sew a piece of felt around the hat which they can glue things to. Then, bit by bit, let them create.
Don't bin it! Get creative with it!

Easter treats can bring unwanted wrapping, ribbons and plastic, but we've got lots of creative ways to recycle and repurpose right here. Here's how to turn your rubbish into (totally not rubbish) bits and bobs.
Let's recycle and craft

Springtime crafts are upon us! Why not upcycle your empty bottles for Easter crafts? These cute bunny pots are perfect for growing some fresh spring herbs.
It's a wrap!
We support WRAP's UK Food Waste Reduction Roadmap, an industry-wide programme that guides businesses to target, measure and act upon food waste. Our mission? To see a 50% reduction in food waste in the UK by 2030.