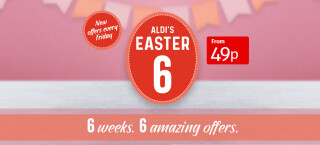 For amazing value this Easter, hop in
Our Easter bunny's just the first of 6 weeks of unbeatable Easter offers, giving you value so amazing you won't believe your ears! Look out for more treats soon – there's a new one every week!
This week's offers
Available in stores now
Easter 6 Offer 6
It's the final week of our fantastic Easter 6 offers. You'll find unmissable offers on lamb, beer, wine, fresh produce, Easter eggs and everything else you need to make your Easter extra special. So pop into your local store and save!
Easter 6 Offer 4

Easter Eggs

You can indulge in a Moser Roth luxury egg or treat yourself to your favourite brand of Easter egg. They're all at fantastic prices because this is the 4th of 6 weeks of our amazing offers! Head into store to discover more!
Easter 6 Offer 3

Hot Cross Buns

Hot cross buns at a very tempting price. You'll find these delicious hot cross buns are hard to resist. This is the third of 6 weeks of amazing Easter offers, so don't miss out.
Easter 6 Offer 2

Branded Eggs

Let the eggcitement begin! We've got your favourite branded Easter eggs at Aldi's amazing prices. This is the second of 6 weeks of amazing Easter offers, so don't miss out.
Easter 6 Offer 1
Chocolate Bunny
We're starting off with a great price reduction on our Dairyfine Milk Chocolate Bunnies. Pick up these much-loved hollow animals in your local Aldi before they all bounce away.