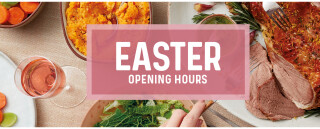 Store times from Good Friday until Easter Monday
†
While you're planning the perfect Easter celebration you'll be happy to learn that your local Aldi will be open for all your last minute buys and big shops. See below for our UK store opening times - Scotland opening hours may vary.
Good Friday 19 Apr 8am-8pm
Saturday 20 Apr 8am-10pm
Easter Sunday 21 Apr Closed
Easter Monday 22 Apr 8am-8pm
† Opening hours may vary depending on store location. Please refer to our store finder to check your local store opening times which will be available from Wednesday 17th April.
If you've left it too late...
Our newsletters are full of amazing ideas, fantastic food & drink ranges, great value gifts and even tasty recipes to transform your leftovers!