3 egg muffin recipes with tasty fillings to try. Perfect for breakfast or brunch.
Egg Muffins 3 Ways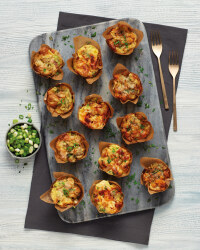 Recipe Information
Ingredients
1 tbsp Soft Butter, for greasing the tin
9 x Medium Eggs
3 tbsp Milk
½ tsp Salt
½ tsp Pepper
Fillings 3 Ways
Chorizo and Yellow Pepper:
50g Chorizo, cubed
½ Small Yellow Pepper, diced
½ tsp Crushed Chilli Flakes
1 tsp freshly chopped Parsley
25g Grated Mozzarella
Spinach and Tomato:
25g Spinach, finely chopped
6 x Tomatoes, halved
1 tsp freshly chopped Basil
25g Grated Mozzarella
Ham and Mushroom:
50g Ham, roughly chopped
75g Mushrooms, sliced
2 x Spring Onions, sliced
1 tsp freshly chopped Parsley
25g Grated Cheddar
Method
Pre-heat the oven to 200°C/180°C Fan/Gas Mark 6. Grease a 12-hole cupcake tin with the butter. Prepare the fillings as described above.
Whisk the eggs, milk, salt and pepper together. In a small pan, cook the mushrooms for about 3 minutes until browned.
Distribute the 3 fillings across the tin (there should be 4 of each flavour). Fill the holes with the egg mixture and then sprinkle the corresponding cheese over the mix. Bake for 20-25 minutes until cooked through. Serve warm.