Simple yet delicious spicy burger recipe. Perfect for BBQ season.
El Diablo Burgers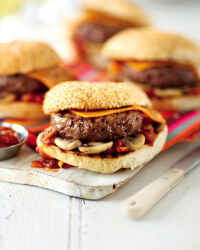 Recipe Information
Ingredients
4 x Fresh Quarter Pounders
4 x Sesame Seed Burger Buns
4 x Slices Spicy Mex Cheddar Slices
300g Jar Hot Salsa Dip
120g Closed Cup Mushrooms
Olive Oil
Black pepper
Find your ingredients online on Click & Collect or find your nearest store using our Store Finder.
Method
Pre-heat the grill or the BBQ.
Grill or BBQ the burgers for about 4 minutes on each side.
Wipe the mushrooms with a cloth and slice, sauté in a little olive oil for a minute, sprinkle over black pepper.
Cut the burger buns in half and toast the cut sides.
Divide the salsa between the four buns, top with sliced mushrooms, then a burger and a slice of the cheese.
Finish with the seeded bun top.