These traditional Scottish family favourites are a wonderful accompaniment to many meals.
Elaine O'Neil's Potato Scones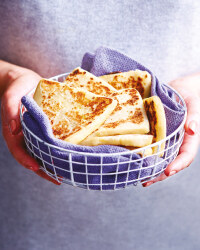 Recipe Information
Ingredients
300g Scottish Potatoes
65g Plain Flour
50g Scottish Butter
Salt and White Pepper
A little Rapeseed Oil
Method
Peel and halve the potatoes before placing in a pan of salted water to boil. Once tender, drain, mash with the butter and season with a little pepper.
Next, add the flour and mix until you have a pliable dough. Now turn the dough out onto a floured surface and roll to the depth of a pound coin.
Cut into 20cm circles then cut these into quarters and prick with a fork.
Heat a heavy frying pan and brush with oil. Now fry the pieces of dough for 2-3 minutes on each side until lightly browned.