This cocktail-inspired breakfast treat is a great twist on pancakes
Espresso Martini Pancakes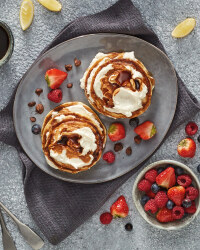 Recipe Information
Ingredients
200g Self-Raising Flour
1 tbsp. Instant Coffee mixed with 1 tbsp. Boiling Water
1 Tsp Baking Powder
1 tbsp. Caster Sugar
½ Tsp Vanilla Extract
200ml Milk
3 Eggs
25g Butter, melted, plus extra for frying
For The Toppings
100ml Espresso-Strength Coffee
4 tbsp. Caster Sugar
25ml Amaretto
130g Mascarpone
70g 0% Fat Greek Yogurt
1 Tbsp Aldi French Vodka
4 Tbsp Icing Sugar
40g Chocolate Shavings
Method
Simmer the espresso coffee, caster sugar and coffee liqueur in a small pan for 5-10 mins, until thick. Set aside to cool.
Whisk the pancake ingredients together in a large bowl until smooth.
Put a small knob of butter in a large non-stick frying pan and cook over a low heat until melted and foaming. Pour 2 tbsp of the mixture into the pan and use the back of the spoon to shape it into a 8-9cm disc. Cook for 2-3 minutes, then flip over and cook for another minute.
Heat oven to its lowest setting. Stack the cooked pancakes on a baking tray and keep warm in the oven while you cook the rest.
Beat the mascarpone, yogurt, vodka and icing sugar together until smooth.
Layer the pancakes with the mascarpone mixture, then finish with a final dollop on top. Drizzle over the coffee syrup, and sprinkle on the chocolate shavings.