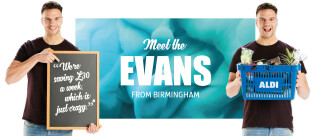 The Evans
The Evans believe 'the quality of the fresh fruit and meat is great'.

They've also been trying products from the Mamia range, like the award-winning nappies.
The story so far...
With four mouths to feed, including one hungry Dad, the Evans were looking for quality, range and value from Aldi. Eight weeks later, let's find out how the family have been getting on…
HOW IT WORKS:
*Based on those of the Evans family's regular shopping items available at Aldi and comparable goods at Morrisons. Weekly price checks carried out at morrisons.com from 02.04.18 - 27.05.18. Pro-rata Morrisons price used considering size. Of the Evans family's regular shopping items 16 items were not available at Aldi. Click here for latest details.
Meet the other families...
We'll be bringing you lots of hints and tips straight from the families themselves, so swap to Aldi and see if you could save.
Let's make it an amazing summer
Whether you're looking for some delicious things to put on the barbecue for that impromptu summer get-together, a new recipe for dinner or planning an amazing family holiday, there's something for everyone at Aldi. And it's not just the price you'll be amazed at.