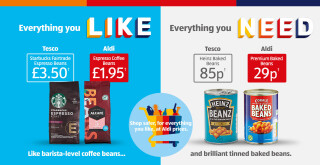 New season, same amazing Aldi
If you like award-winning food, refreshing drinks and seasonal favourites like flowers, recipes and more, then you might like what Aldi has in store this spring. Explore the full range today or pick an area you're interested in below.
Aldi. Everything you like. Everything you need.
In these trying times, Aldi's 33,000 colleagues are working around-the-clock to fill the shelves with the amazing products you like and the everyday essentials you need. You can trust us to make your shopping trip as smooth and as safe as possible at every store, every time.
Fish for all
Whether you want a fresh fish dinner or you need your favourite fish fingers, you'll find both and lots more in your local Aldi. Thanks to our amazing team, our shelves are stocked throughout the day, so you can get everything and shop safely too.
Going the extra mile for animals
We are proud that all our own label cosmetics, toiletries and household products are cruelty free certified by Cruelty Free International and awarded with the gold standard leaping bunny certification across both our household and health & beauty ranges.
British Eggs
Can you really beat an organic British free-range egg? They're so versatile, so delicious and such great value in your local Aldi. Read up about our amazing suppliers now.
Top tips for keeping your home tip top
Yes, we know you probably don't like the idea of cleaning your home from top to bottom. We'll admit it's not the most exciting job in the world, but at this time of year it feels so good to have a clear-out and clean-up. Give it a go with our useful tips. Who knows, you might even enjoy it.
Cleaning cupboard trick

Save yourself a trip to the shop and mix your own all-purpose cleaner. Mix one-part white vinegar and one-part water. Throw in some lemon rind and rosemary sprigs for scent.
Get your glasses sparkling

Remove the build-up of water minerals on your stemware glasses with a 5-minute white vinegar soak. To finish, give them a rinse with water and dry with a cloth.
Put your outdoor in order

Plan for lazy days in the garden by revitalising your garden furniture. It's simple to do with a squirt of dish soap in a bucket of warm water. Rinse them off with a hose.
Spring in bloom
Start your spring with an amazing garden refresh. We've got tips on how to pick, plant and pamper your flowers and plants to create the perfect outdoor space. Grab your boots and tools and let's get to it.
Yeast Free Monkey Bread
Enter the Taste Kitchen and learn how to bake this amazing monkey bread recipe. There, you'll find other mealtime ideas too, including our magnificent MLT sandwich that swaps bacon for mushroom! Try them both today.
Anyone for spring drinks?
Find all your favourite bottles of wine and spirits online or opt for a spring drinks recipe. Cheers!
†Tesco may sell 'own brand' products at different prices. Price checked on tesco.com 09/04/20. Products and prices may vary by store.