A fun twist to the family favourite spaghetti Bolognese. A great Halloween recipe.
Eyeball Spaghetti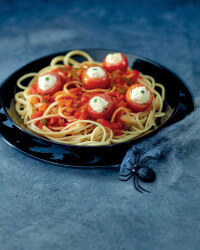 Recipe Information
Ingredients
400g Cucina Italian Spaghetti
1 x 500g Jar Cucina Pasta Sauce - choose between Tomato and Mushroom, Tomato and Garlic or Tomato and Spicy Pepper
1 x pack mixed peppers
1 x 200g pack Lyttos Greek Feta Cubes in oil
1 x 250g pack cherry tomatoes
A few fresh salad choices basil leaves*
Method
Cut a thin slice off the top of each tomato, with a small teaspoon scoop out some of the centre, push a cube of feta cheese into the hole, and squeeze it slightly to make it round – repeat with the rest of the tomatoes.
Cut some little rounds out of the basil leaves and put them in the centre of the tomato eyes to make pupils.
Cook the pasta as instructions on the packet.
Chop the peppers into small pieces, add them to the pasta sauce in a saucepan and heat through.
Drain the pasta, toss in the warm sauce.
Divide between 4 plates and then scatter over the tomato eyes and serve. *from the store cupboard.