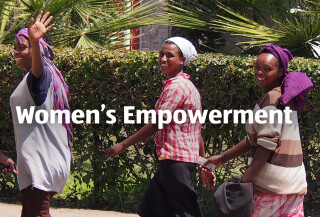 Creating fair conditions for our flower growers
We are supporting women's empowerment for flower growers in Ethiopia, where Aldi is the only British retailer sourcing Fairtrade flowers. We think that it is essential to support the countries around the world where our products are produced in order to address equality challenges and create fair and supportive working environments.
Four years of investment
So we will invest £200,000 in the Fairtrade Flowers Gender Empowerment Project over the next four years. The project supports education programmes aimed at enabling women to become leaders at work and in their communities through mentorship, upskilling and information sharing, and behaviour change initiatives.
Protecting our suppliers and their communities
More than 75% of Aldi's Fairtrade flowers are sourced from Herburg Flowers in Ethiopia where more than three-quarters of workers in the flower-growing industry are women.
We are focused on maintaining high standards throughout our supply chain and are partnering with Fairtrade to both empower and protect women, and to give them the tools and support they need to take on leadership roles on farms in their communities.
Did you know that Aldi is one of the largest retailers of Fairtrade flowers in the UK? And in addition, we sold a dozen roses every two seconds in the week running up to Valentine's Day 2019.
Herburg Flowers
Find out more about how we work with Herburg Flowers here.
UN Women's Empowerment Principles
Aldi UK and Ireland has signed up to the United Nations Women's Empowerment Principles. These are a set of principles that promote gender equality and women's empowerment in the workplace and community. They include promoting training and professional development for women, and measuring and publicly reporting on progress to achieve gender equality. The Women's Empowerment Principles align with our position that all businesses have a responsibility for gender equality and women's empowerment and for addressing any form of discrimination. We encourage all of our suppliers to sign the UN Women Empowerment Principles and to join Aldi in working towards gender equality together. We also communicated this directly to all of our food and non-food suppliers in 2021.