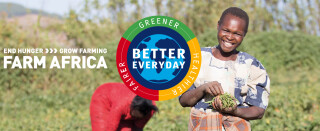 Making a difference to communities in Africa
In June 2016, Aldi became the first UK supermarket to team up with Farm Africa, an international development charity.
The French beans from the Farm Africa project were sold in a number of Aldi stores during autumn 2018 for a limited time. This gave the farmers direct access to market and marked the first delivery to Aldi stores of produce harvested as part of Aldi's 3-year partnership with Farm Africa.
The project also financially improved farmers' lives; each group of 25 had their own savings and in total the groups saved over £27,000 allowing them to take out small loans.
Most savings were invested in household needs such as school fees, additional food and medical needs, but 35% was invested back into the farming businesses and so the project continues to positively affect the community, even after its completion!
#EverydayAmazing
Our plan to continue…
When the Growing Futures project came to an end in 2019, Aldi were keen to continue supporting Farm Africa, and so, in March 2020, the second phase of Growing Futures began!
The exciting second phase of the partnership aims to deepen the engagement with the original core group.
Growing Futures
The project offered the chance for young farmers to escape the cycle of poverty and gave them the chance to grow and sell more crops, learn business development skills, earn an income and build a sustainable future for themselves and their communities.