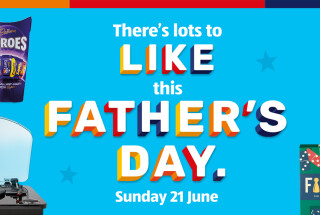 There's lots for Dads to like at Aldi this Father's Day
Treat your Dad, Stepdad or Grandad to an amazing Father's Day gift from Aldi. We've got BBQ tools and grooming gifts he'll love. Not to mention some top music tech. And plenty more gift inspiration just for him. Of course, you could just make his day with an amazing Father's Day meal. There's something at Aldi for the greatest Dad of them all… yours.
If you think he'd like steak, he might like these
£7.49, average weight 170g§

£5.99, average weight 227g§

£6.99, average weight 227g§

£6.49, average weight 227g§
§Fillet steak sold at £44.00 per kg, Ribeye steak sold at £30.75 per kg, Sirloin steak sold at £28.49 per kg, Rump steak sold at £26.49 per kg. Average price and weight shown. Prices and weights vary – per unit price displayed on pack.
Fun family craft ideas for Father's Day
Make the most of your time together this Father's Day with some heartfelt handmade craft ideas. We've got card ideas, cake recipes and sweet little notes that Dad will never forget. Have fun creating them all with your little ones.
Love notes for Dad
All you need to do to make this simple sweet gift is find an empty jar or tin and fill with notes on all the best things about your Dad. Tell him how good his hugs are, or how you love when he reads to you. He can keep it close at home or in the office!
Handmade card
Keep your little one's hands busy with a handmade card just for Dad. All you need is some colourful card and a little imagination. Draw the things your Dad loves, cut them out and stick them on. Don't forget to write a special message inside too!
Cut these out to go in Dad's card
Simply screengrab or print this section, or download the vouchers using the link.
Cook a Father's Day feast
Whether you want breakfast, brunch or lunch ideas for your Dad, you'll find them in our wonderful online cookbook. We've even got incredible steak dinner ideas too! Let's get cooking.
A cake for Dad
Spend the morning making an amazing cake for the best Dad in the world. Then spend the afternoon eating it together. Take a look at our tasty recipe and get baking!
Top tipples for terrific Dads
When you're looking for a great gift for Father's Day, a nice bottle of something special always goes down well. Explore our collection of wines and spirits for the perfect pick. There's even some amazing cocktail recipes to shake things up too.