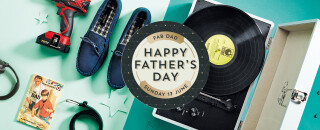 Make Father's Day amazing
Get your dad the perfect present with our amazing Father's Day gift range. There's gadgets, clothes, alcohol and much more, all available at great value online from 3rd June and in store from the 7th.
Wines, beers, and ales, our range has them all. From award-winners to personal favourites, they make the perfect gift for Father's Day, and if you're lucky, he might even share a glass with you too.
Treat your Dad to a lovely meal!
Put a little extra effort into Father's Day with a home-cooked meal for Dad. Whip up his most loved meal or try something a little different with our simple-to-follow recipes and delicious dish ideas.
Our Favourite Specialbuys
Discover more
Delve into a world of inspiration for Father's Day, from diverse recipes, tips, superb gifts to exclusive updates.