Gin Crackers
Product Ref: 087255249388400
Product Information
By law we cannot sell this product to anyone under 18
A fun, novelty selection of 6 x adult crackers, perfect for all festive occasions! Each cracker has it's own individual miniature bottle of premium British gin inside!
Please note that your crackers may contain a mix of any of the following:
1 x Gordon's Pink Gin 37.5% ABV
1 x Martin Miller's Gin 40% ABV
1 x Whitley Neill Gin 43% ABV
1 x JJ Whitley London Dry Gin 38.6% ABV
1 x Tanqueray Gin 41.3% ABV
1 x Edgerton Pink Gin 43% ABV
Warning: Each cracker contains a 50ml glass bottle. Take extra care when pulling.
.
Please note this product is not available for delivery to Scotland.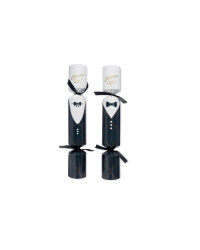 ABV:

37.5% - 43%

Bottle Size:

6 x 5cl

Type:

Gin
Serving suggestion
Neat over ice, or with your favourite mixer
Wine/Spirits Disclaimer
Prices and "Alcohol by Volume" or "ABV" measurements may be different in stores in Scotland due to minimum unit pricing laws. See in stores for details.