BBQ grilled steak sandwich on ciabatta with fried egg, mustard and jalapeno chutney.
Fillet Steak Sandwich by Mike Reid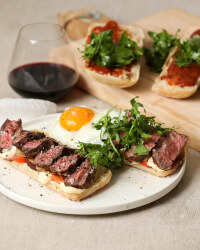 Recipe Information
Ingredients
150g Fillet steak
1 Egg
1 tbsp Red pepper and jalapeno chutney
1 Plum tomato, sliced
15g Rocket
½ Onion, sliced & sautéed
½ tsp Dijon mustard
1 tsp Mayonnaise
1 Ciabatta roll
Method
Grill the steak from room temperature, seasoning generously with salt on your BBQ for about 8 minutes. Make sure your coals are not to hot, you want a nice medium heat.
Then rest for at least 6 minutes in warm place.
Meanwhile, over a low heat, fry your eggs till the white is cooked but ensuring you have a beautiful runny yolk.
To assemble your sandwich, first mix the mustard with the mayonnaise. Baste this onto the bread, then add the chutney.
Cut the beef in half and add this along with the the tomato, onion and egg, finishing with rocket on the side.