A hearty, warming dinner for those cold, frosty days, with a sweet potato twist on top!
Fish & Sweet Potato Chip Pie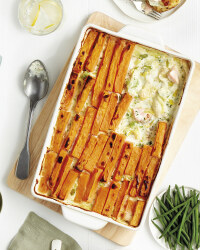 Recipe Information
Ingredients
400g pack Frozen Fish Pie Mix, defrosted
120g Celery, wiped and trimmed
120g Leeks, washed and trimmed
2 Large Sweet Potatoes
8g Fresh Parsley
20g Plain Flour
100ml Double Cream
250ml Milk
55g Salted Butter
Sea Salt and White Pepper
Shallow baking dish (approx. 27 x 17cm)
Method
Pre-heat the oven to 200°C/Gas Mark 6.
Finely chop the leeks and celery.
In a large pan melt 40g butter and sauté the leeks and celery on low for 5 minutes to soften.
In the meantime, peel the potatoes and cut into chips.
Add the flour to the pan and cook for a minute.
Increase the heat and slowly add the milk, stirring as you cook.
When you have a thick sauce, add the cream and cook for further minute.
Season with some salt and pepper, add the fish and gently stir through.
Pour the mix into the baking dish.
Boil the chips in salted water for 5 minutes and drain well.
Place the chips in lines over the top of the fish mixture.
Melt the remaining butter, brush over the chips and bake in the oven for 20 minutes.
Finally, put under the grill for 5 minutes to further brown the chips and serve immediately.
Ensure pie is thoroughly cooked.