Homemade protein packed deliciousness – Flapjacks are perfect for keeping them fuelled through the day.
Flapjacks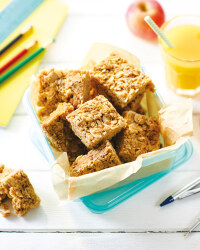 Recipe Information
Ingredients
300g Oats
100g Flaked almonds
5 tbsp Maple syrup
5 tbsp Golden syrup
10 tbsp Coconut oil
5 tbsp Almond butter
Method
Melt the syrups, oil and almond butter.
Whisk the mixture to emulsify the fat.
Mix with the oats and flaked almonds and flatten out on to a lined baking tray.
Set in the fridge and cut in to portions.