Warm flatbreads topped with lemon juice peas, torn mozzarella and fresh cucumber slices.
Flatbread with Crushed Peas, Baby Cucumbers and Mozzarella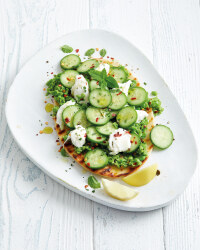 Recipe Information
Ingredients
• 200g Baby Cucumbers
• 250g Frozen Garden Peas
• 4 Folded Flatbread
• 1 Ball of Mozzarella (140g)
• 2 tbsp. Lemon Juice
• ½ tsp. Dried Chilli Flakes (optional)
• 1 tbsp. Extra Virgin Olive Oil
• ½ tsp. Salt
• ½ tsp. Pepper
• 1 tbsp. Freshly Chopped Mint
Method
1. Begin by washing then thinly slicing the baby cucumber.
2. Add 1 tablespoon of lemon juice, the chilli flakes (if using) and a pinch of salt and pepper to the cucumbers.
3. Boil a saucepan of water and cook the peas for 2-3 minutes then drain.
4. Add the remaining tablespoon of lemon juice, as well as the olive oil and a pinch of salt and pepper to peas and crush with a fork until you have a chunky paste.
5. Tear the mozzarella intosmall pieces.
6. Heat a frying pan and unfold the flatbreads then cook them on each side for 2 minutes until golden.
7. To plate top theflatbreads with the crushed peas.
8. Divide the mozzarella between the flatbreads and then top with the cucumber slices and serve sprinkled with the chopped mint.