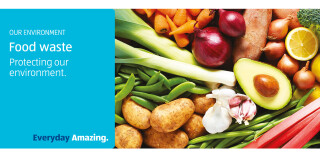 How we're tackling food waste
In 2017, we signed up to the Friends of Champions 12.3 as part of our commitment to reducing food waste. This has committed us to halving our operational food waste by 2030, as well as working with suppliers and customers to reduce their food waste.
This programme will see us drive progress towards the UN Sustainable Development Goal to halve per capita global food waste by 2030.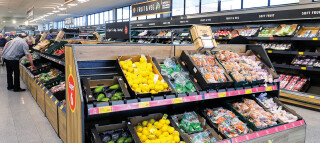 Highlights from 2017/18 include:
• Donating over 2 million meals in 2018 in the UK and over 289,000 meals in ROI
• Donated over 551 tonnes of food surplus from stores in UK and 273 tonnes in ROI in 2018
• Donating food that would have gone to waste on Christmas Eve – over 464,000 meals were donated from 300 British stores in 2017 to local charities and over 495,000 meals from 500 stores in 2018
• Reducing wastage in our supply chain by buying up gluts of produce, including 700,000 potatoes that would have otherwise been thrown away
• Saving 1857 tonnes of surplus stock via our partnership with Company Shop, providing the equivalent of 4.3 million meals in 2018
• Helping customers to reduce food waste by promoting WRAP's Love Food Hate Waste campaign
We have now established our food waste baseline which stands at 1.25% △ of UK sales, and 1.28% △ of our Irish sales, in 2017. We recognise that we can do more and understanding where food is being wasted is key to driving future change. We have made progress across a number of areas this year and will continue to drive this figure down with new initiatives throughout 2019.
Food waste by category during 2017
Comment from our independent assurance provider, Grant Thornton UK LLP Independent Limited Assurance
Grant Thornton UK LLP ("Grant Thornton") were engaged to undertake independent limited assurance over selected data highlighted on this webpage △ using the assurance standard ISAE 3000. Grant Thornton's full assurance statement can be viewed within the below downloadable PDF. The level of assurance provided for a limited assurance engagement is substantially lower than a reasonable assurance engagement. In order to reach its opinion Grant Thornton performed a range of procedures. A summary of the work Grant Thornton performed is included within their assurance statement.
The Reporting Criteria that we used as the basis of preparing selected data in the report can be seen within the downloadable PDF below and should be read in conjunction with the selected data.
FOOD WASTE REPORTING – PUBLIC METHODOLOGY STATEMENT
Grant Thornton UK LLP Assurance Opinion