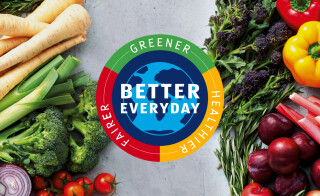 Food waste
Food waste is an urgent environmental and social issue. We have committed to reduce food waste by 20% by 2025, and halve it by 2030 (relative to 2017 baseline).
To achieve these commitments we are working hard to prevent waste in our operations where possible, and when waste does happen, to ensure we have partnerships to distribute surplus food to charities. We also work with our suppliers to minimise waste and we support a range of industry initiatives.
We support WRAP's UK Food Waste Reduction Roadmap, an industry-wide programme that guides businesses to target, measure and act upon food waste. It aims to achieve a 50% reduction in food waste in the UK by 2030.
Together with our partners, we are also committed to the UN Sustainable Development Goal 12.3 to halve, per capita, global food waste by 2030. This goal has vital importance to reduce the environmental impact of wasted food, and to help alleviate food poverty.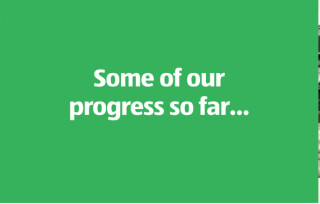 • We have reduced our wastage intensity by 8% since 2017, when we first published our data. This puts us on track to achieve our 2025 target.
• We have been working in partnership with Neighbourly since 2019, and have linked all of our stores with local groups to donate surplus fruit and vegetables, bakery, long-life products and flowers. In 2019, we donated over 3 million meals via this partnership, which was almost double what we donated to charities in 2018. Find out how much Aldi has donated to charities, and the community groups your local store donates to here.
• We donated over 480,000 unsold Easter eggs in April 2020 to our Neighbourly charities, spreading cheer at a time when it was needed most.
•We support our growers to reduce waste by flexing agreements to accommodate crop failures and gluts, such as introducing larger pack sizes for a limited time to get more of this product out to our customers. Another example is that we also helped prevent 30 tonnes of potential food waste with one supplier in 2019 by adjusting contract timings to accommodate an unexpected earlier harvest.
• We introduced 50% price reductions in 2018 on food products on the last day of life, creating less store waste and providing even better value for our customers.
• We have supported our suppliers via our partnership with The Company Shop Group, to save 6458 tonnes of surplus stock to date (since 2015) that would have been wasted.
• We help our customers to reduce food waste by promoting WRAP's Love Food Hate Waste campaign in stores, on our social media, and in our in-store leaflets.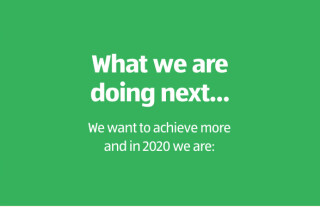 • Trialling 75% price reductions of food in stores that is near the end of its life to reduce wastage.
• Trialling the donation of chilled food products with Neighbourly, so we can support our communities even more by increasing access to a wider range of nutritious food.
• Expanding our redistribution programme with Neighbourly to include weekends to donate even more food to local groups.
• Rolling out a simple and easy process for our regional warehouses to donate food via Neighbourly, breaking down barriers to donating food and reducing waste in this area of our operations.
• Trialling an innovative process to turn food that can't be donated into animal feed.
• Monitoring our food waste more closely and engaging with the right teams to identify waste hotspots, and clear priority actions for the business.
• Removing Best Before dates on certain produce lines, in line with WRAP guidance.
Food donations in 2020
In 2020 we donated 8.6 million surplus meals from UK stores to charities such as shelters, after school clubs, food banks and more.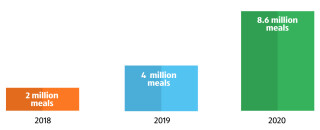 Over half a million of these meals were donated to local charities on Christmas Eve in 2020.
Food waste data
Our food waste report includes data from all stores and regional distribution centres in the UK. In 2017 we established our food waste intensity baseline as being 1.25%Δ, meaning 1.25% of sales ended up as waste. Since then, to adhere to WRAP reporting guidelines, we now calculate wastage intensity as being a percentage of all food handled by the business. Therefore, we are restating our wastage baseline as being 1.24% of food handled by the business in 2017.
In 2019 we opened 50 stores, and because of our continued store growth, our food waste tonnage has slightly increased year-on-year, however, our 2019 food wastage intensity has improved to 1.14%α of food handled in the UK. This is an 8% improvement.
Wastage intensity UK

Food waste by category during 2019
Food surplus by destination in 2019

Data on disposal via other methods, e.g. liquid waste disposal via drains for things like spillages in store are not currently captured by the business and not included in the breakdown of the above table. These are estimated to be very small in comparison.
Independent Limited Assurance – Grant Thornton UK LLP
We engaged Grant Thornton UK LLP to undertake an annual independent limited assurance engagement over selected data highlighted on this webpage with the symbols Δ, and α using the assurance standard ISAE 3000. Grant Thornton UK LLP has issued an unqualified opinion over the selected data. Grant Thornton UK LLP's full assurance statements for each of the relevant years are available on our website within the below downloadable PDFs.
The level of assurance provided for a limited assurance engagement is substantially lower than a reasonable assurance engagement. In order to reach their opinion, Grant Thornton UK LLP performed a range of procedures. A summary of the work Grant Thornton UK LLP performed is included within their assurance statement.
The Reporting Criteria that we used as the basis of preparing selected data on this webpage are our Food Waste Reporting – Public Methodology Statements for the relevant years and can be seen within the downloadable PDFs below. This webpage needs to be read together with the Reporting Criteria.