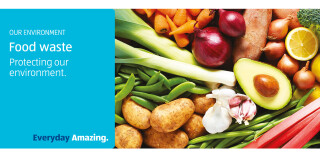 How we are tackling food waste
Food waste is an urgent issue, and Aldi takes our responsibility to reduce our food waste seriously. We have committed to reducing food waste by 20% by 2025, and halving food waste by 2030 (2017 baseline).
In 2017, we signed up to the Friends of Champions 12.3. This has committed us to halving our operational food waste by 2030, as well as working with suppliers and customers to reduce their food waste. We have also lent our support to WRAP's UK Food Waste Reduction Roadmap, an industry wide roadmap that guides businesses to Target, Measure and Act upon food waste and ultimately achieve a 50% reduction in food waste in the UK by 2030.
These commitments will see Aldi drive progress towards the UN Sustainable Development Goal to halve per capita global food waste by 2030. By achieving this goal, we will help to reduce the environmental impact of wasted food, and help fight food poverty.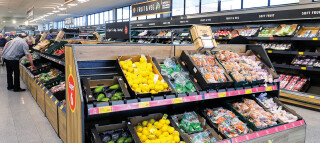 Highlights to date include:
• Introducing a new partnership with Neighbourly in 2019 to link all of our stores with local causes to donate surplus fruit and vegetables, bakery, long-life products and flowers. Find out how much Aldi has donated to charities, and which good causes your local store donates to here.
• Supporting our growers to reduce waste, by flexing agreements to accommodate crop failures and flushes, such as introducing larger pack sizes for a limited time to sell through increased volumes. Another example is that we also helped prevent 30 tonnes of potential food waste with one supplier in 2019 by flexing contract timings to accommodate an unexpected earlier harvest.
• Introducing 50% price reductions in 2018 on food products on the last day of life, reducing in store waste and providing even better value for our customers.
• Supporting our suppliers, via our partnership with The Company Shop Group, to save 5,193 tonnes of surplus stock to date (since 2015) that would have been wasted, providing the equivalent of over 12 million meals.
• Helping customers to reduce food waste by promoting WRAP's Love Food Hate Waste campaign in stores, on our social media, and in our in store leaflets.
Food donations in 2018
We donated 847 tonnes of food to charities in 2018, the equivalent of over 2 million meals*, up from 551 tonnes in 2017. This is an increase of 52%.
* Based on an average meal size of 420g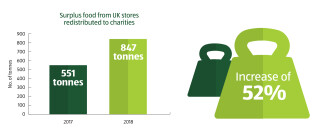 Of these 2 million meals, 495,000 meals from 500 British stores were donated to local charities on Christmas Eve in 2018.

Food waste data
We established our food waste baseline, which stands at 1.25%△ of food sales in the UK in 2017. Since then, WRAP and IGD have introduced new food waste measurement guidelines and we have adjusted our methodology to reflect it. Therefore, our 2018 food wastage is 1.19%֍ of food handled in the UK.
Wastage intensity UK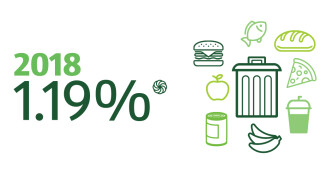 Food waste by category during 2018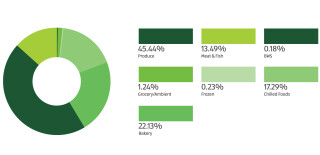 Food surplus by destination in 2018

We recognise that we can do more and understanding where food is being wasted is key to driving future change. We have made progress across a number of areas via the implementation of new initiatives throughout 2019.
Comment from our independent assurance provider, Grant Thornton UK LLP Independent Limited Assurance
Grant Thornton UK LLP ("Grant Thornton") were engaged to undertake independent limited assurance over selected data highlighted on this webpage ֍ using the assurance standard ISAE 3000. Grant Thornton were also engaged to undertake a similar assurance engagement for the previous year over the selected data highlighted on this webpage△. Grant Thornton's full assurance statement can be viewed within the below downloadable PDFs.
The level of assurance provided for a limited assurance engagement is substantially lower than a reasonable assurance engagement. In order to reach its opinion Grant Thornton performed a range of procedures. A summary of the work Grant Thornton performed is included within their assurance statement.
The Reporting Criteria that we used as the basis of preparing selected data in the report can be seen within the downloadable PDFs below and should be read in conjunction with the selected data.
FOOD WASTE REPORTING – PUBLIC METHODOLOGY STATEMENT 2018
FOOD WASTE REPORTING – PUBLIC METHODOLOGY STATEMENT 2017
Grant Thornton UK LLP Assurance Opinion 2018
Grant Thornton UK LLP Assurance Opinion 2017