Freakshake Choctail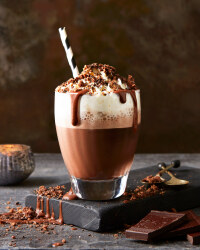 Recipe Information
Ingredients
50ml Sea Dog Premium Spiced Rum
150ml Cowbelle Chocolate Fudge Milk
60g Sugar
60g The Pantry Cocoa Powder
500ml Water
To serve:
Moser Roth Luxury Dark Chocolate
Memento Triple Chocolate Cookies
Whipped Cream
Ice
Method
In a small saucepan, boil 250ml water then remove from the heat and add the cocoa powder and sugar. Stir to dissolve and then add the remaining water.
Once cooled, add the rum to the mixture and leave to infuse.
Once successfully infused for ten minutes, add to a cocktail shaker with the ice and the chocolate fudge milk, then shake. Pour into your preferred glass and top with whipped cream, grated dark chocolate and serve with the cookies.