A classic, buttery French Apple Tart. The perfect dessert to impress your guests with.
French Apple Tart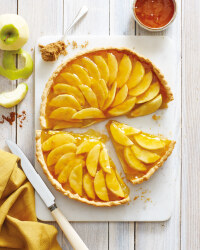 Recipe Information
Ingredients
1 x Pack Greenvale Shortcrust Pastry
150g Bramwells Bramley Apple Sauce
3 x Golden Delicious Apples
2 x tbsp The Pantry Light Brown Soft Sugar
1 x tsp Stonemill Ground Cinnamon
1 x tbsp Specially Selected Apricot Preserve
300ml Cowbelle Extra Thick Double Cream
1 x Lemon
Method
Pre-Heat the oven to 190°C/375°F/Gas Mark 5.
Roll out the pastry and line a 23cm fluted flan tin.
Line with a sheet of baking paper and weigh down with baking beans or rice.
Bake for 10-15 minutes until the pastry is part cooked, remove the baking beans and bake for a further 5 minutes until the pastry is cooked and lightly golden.
Meanwhile peel, core and thinly slice the apples then mix them with the sugar, cinnamon and the juice of 1 lemon.
When the pastry has cooled spread the apple sauce over the bottom of the tart and arrange the apple slices on top.
Bake for another 15 minutes until the apples have softened and browned slightly.
Warm the apricot reserve and brush over the cooked tart, serve warm with the extra thick double cream.