A sweet start to your morning. Enjoy baked chocolate brioche topped with raspberries and almonds.
French Toast Traybake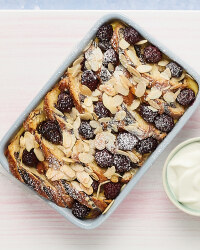 Recipe Information
Ingredients
1 x 400g Chocolate Tear and Share Brioche Loaf
150g Fresh Raspberries or Blackberries
3 X Eggs
80ml Semi Skimmed Milk
15ml Maple Syrup
1 X Tsp Vanilla Essence
1 X 250g Tub Mascarpone Cheese
30g Caster Sugar
20g Slivered Almonds
Vanilla Yoghurt
Baking dish approx. 30x20cm
Method
Preheat the oven to 180c 350f/gas 4.
Slice the brioche into 12 slices.
Arrange in the baking dish and sprinkle over the raspberries or blackberries.
Whisk the mascarpone cheese, eggs, milk, caster sugar, vanilla essence and the maple syrup together in a large bowl till smooth.
Pour over the bread in the tray.
Sprinkle over the almonds and bake in the oven for 30 mins.
Serve warm or cold with some vanilla yoghurt and some extra maple syrup.