Light and refreshing apple salad recipe. Ideal as a side dish or for switching up lunch.
Fresh Pink Lady® Apple Salad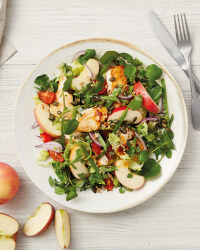 Recipe Information
Ingredients
3 Pink Lady® Apples
2 tbsp Olive Oil
1 tbsp Soy Sauce
200g Mangetout, shredded
12 Cherry Tomatoes, quartered
1 Red Onion
2 Limes
5 tbsp Sugar
300g Chicken Breast Fillets
Small bunch Coriander, chopped
2 Baby Gem Lettuce
1 handful of Watercress and Rocket Mix
Pinch of Chilli Flakes
5 tbsp The Foodie Market Seed Mix
Method
Mix together the sliced apple and roughly chopped leaves of 2 baby gem lettuce with the handful of watercress and rocket mix.
Add the tomatoes and then the mangetout and the finely chopped onion.
Slice the chicken breasts and fry them.
In a bowl, mix the lime juice, oil, chilli flakes, sugar and the soy sauce.
Add the chopped coriander and seed mix (which you have already grilled on a baking sheet in the oven).
Pour the dressing over the salad when serving.