Light, fruity and wonderfully moist, this raspberry and orange cake is perfect for parties.
Fresh Raspberry & Orange Cake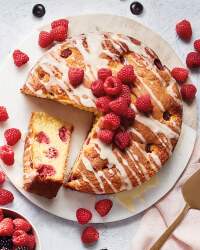 Recipe Information
Ingredients
2 x 125g packs Fresh Raspberries
300g Self-Raising Flour
150g Perfect for Cakes Spread
250g The Pantry Caster Sugar
1 x Fresh Orange
2 x Large Eggs
4 x Egg Yolks
160g The Pantry Icing Sugar
1 x 23cm Spring Form Cake Tin
Non-Stick Parchment Paper
Method
Pre-heat the oven to 170°C/325°F/Gas Mark 3.
Line the bottom of the tin with non-stick paper.
Whisk the two eggs and egg yolks together.
Grate the rind from the orange and then juice the orange.
In a food processor mix the flour, caster sugar, spread, grated orange rind and egg mixture together until well blended.
Spread half the mixture in the bottom of the tin.
Sprinkle over the raspberries.
Then spread over the rest of the cake mix.
Bake in the oven for 45-50 minutes, until the cake is golden and risen.
Test with a wooden skewer, if the skewer comes out clean, it's done, if not return to the oven for a further 5-7 minutes.
Allow to cool in the tin.
Sift the icing sugar into a bowl, stir in the orange juice until you have a smooth icing.
Drizzle over the cake and serve.