Made with fresh herbs, this homemade bread is great for sharing.
Fresh Sage and Herb Tear and Share Bread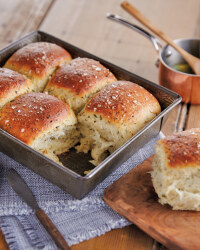 Recipe Information
Ingredients
300g The Pantry Strong White Flour
7g Pouch The Pantry Dried Yeast
185ml Warm Water
1 tsp The Pantry Caster Sugar
100g Grated Mature Cheddar Cheese
30ml Specially Selected Olive Oil
1 Large Egg, whisked
5g Fresh Sage Leaves
5g Fresh Basil Leaves
5g Fresh Parsley
¼ tsp Salt
8ml Milk
2lb Loaf Tin
20g Extra Strong White Flour
Sunflower Oil
Sea Salt
Black Pepper
Method
Put 150g flour, the yeast, sugar and warm water in a bowl – mix well until you have a thick batter.
Cover with some cling film and put somewhere warm for 30 minutes, until frothy.
Finely chop the herbs and whisk the egg.
Add the other 150g flour, cheese, herbs, salt, whisked egg and the olive oil to the yeast mixture and mix well.
Using the extra flour, turn the dough out onto a work surface then knead the dough for about 8 minutes until it is no longer sticky.
Slightly oil a bowl with some sunflower oil, then put in the dough, cover with cling film and allow to prove in a warm place for about 20 minutes.
Pre-heat the oven to 200°C/400°F/Gas Mark 6. Slightly oil the loaf tin.
Turn the dough out onto the work surface and punch and knead for a couple of minutes.
Divide the mixture into 6 and shape into balls, put them along the bottom of the prepared loaf tin.
Cover with some cling film and put in a warm place to rise for 20 minutes.
Remove the film and brush the top gently with the milk.
Season the top with some sea salt and black pepper.
Bake for 30/35 minutes until golden, then serve hot or cold.