We've got some great ideas for healthy snacks. Like these Fromage Frais Dippers.
Fromage Frais Dippers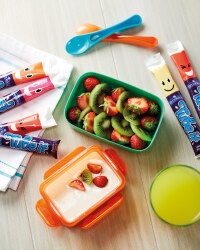 Recipe Information
Ingredients
Fromage Frais
A selection of fruit
Method
Decant a portion of Fromage Frais into a small plastic container (with lid).
Cut a selection of fruit into halves or wedges and place into a separate container.
Choose from the following fruits - Strawberries, Kiwi, Melon, Plums.