An out of this world home-made Galaxy Ice Cream that the kids can make too.
Galaxy Ice Cream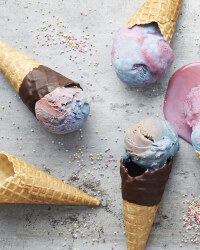 Recipe Information
Ingredients
300ml Double Cream
410g tin Evaporated Milk
100g Icing Sugar
1 tsp Vanilla Extract
Gel Food Colours in pink, blue and red
4 Italian Style Waffle Cones
Hundreds and Thousands
Coloured Strands
Method
Place the double cream into a large mixing bowl and whisk to soft peaks.
Fold the evaporated milk, icing sugar and vanilla extract into the cream.
Divide the mix between 3 mixing bowls.
Add 1 colour to each bowl and mix, adding each colour until desired shade is achieved.
Pour all the ice cream into a 1 litre capacity freezer-safe container and gently stir to create a marble effect.
Freeze the ice cream for 8 hours or overnight.
To serve, place a scoop of ice cream into a cone, then sprinkle with hundreds and thousands and coloured strands.