Juicy gammon, served with spiced wedges, fresh coriander leaves and a deliciously tangy mango salsa.
Gammon Steaks with Mango Salsa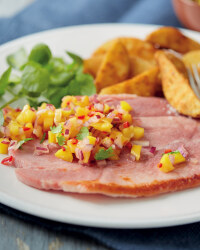 Recipe Information
Ingredients
2 x 400g packs Specially Selected Gammon Steaks
150g Let's Eat – Mango Chunks
1 small Red Onion
1 fresh Red Chilli
½ tub fresh Coriander Leaves
10ml Grandessa Squeezy Honey
600g Champion Grade Spicy Wedges
Method
Peel, halve and finely chop the red onion.
Finely chop the mango chunks.
Halve the red chilli – remove the seeds and discard – finely chop the flesh.
Chop the coriander leaves finely.
Mix the chopped onion, mango and red chilli together – stir in the honey and the coriander.
Cook the wedges as per directions on the pack – either in the oven or deep fry.
Pre-heat the grill to high or prepare the barbecue.
Grill or barbecue the gammon for about 5 minutes each side.
Serve the gammon steaks with the salsa along with the wedges.
Great served with some crunchy salad.