Welcome to our gardening blog
This April we have asked our experts for lots of handy, fresh tips and inspiration to inspire budding gardeners to make the most of their gardens and outdoor spaces. Follow our expert advice to ensure your garden will be in top condition this month and the next.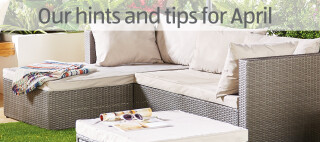 April is the perfect month to spend some quality time in the garden pre-planting and getting it ready for summer. With the promise of sunshine and showers we'll see lots of trees, shrubs and flowers springing to life. Of course, our team of expert gardeners are on hand to inspire you in the garden this month, so whether you're giving it a general tidy up or planning some serious planting, we'll be with you every yard of the way.
Spend a little more time in the garden this month as the weather improves and give it a little TLC.
Keep up with weeding because they love to grow quicker when there's a little sunshine to be found.
It's the perfect time to plant your hanging baskets, planters and containers. Choose from a great selection at Aldi, including the Barrel Style Planter.
Add a few handy arches, obelisks or trellis' to encourage and boost your plant and flower growth. This Metal Garden Arch is a great, stylish option, available online 8 April and in store 12 April.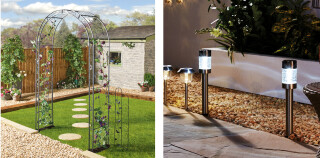 Start to add decorative touches to your garden to really bring it to life. It's a good time to add solar lighting - these Solar Bollard Stake Lights are perfect for evening ambience and give your garden the wow factor.
Support your local birds by adding birdhouses during the nesting season.
Mow the perfect lawn every week and aerate to promote healthy growing. Our Cordless Lawnmower and Cordless Grass Trimmer offers a practical and convenient way to keep your garden neat and tidy.
Leave the garden seats out and keep the furniture covers handy to protect them from April Showers. Available exclusively online, the Rattan-Effect Corner Sofa Set Cover will keep your furniture in top condition whatever the weather.
Our top picks for April
You can get the garden shipshape in no time with this Cordless Lawnmower for less than £130. And create the perfect environment to relax with one of our stylish Rattan-Effect Sofa or Bistro sets. Just make sure you've got something to sizzle on this fantastic Dual Fuel Barbecue at only £149.99. Order all your must-have gardening equipment direct from our amazing new online Garden Shop.