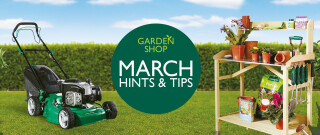 Expert top picks - What to do in the garden in March
Welcome to our gardening blog
Every month, the Gardening Blog provides fresh tips and inspiration to guide budding gardeners through the seasons. Follow our expert advice to ensure your garden will be in top condition and ready to enjoy with friends and family all summer long.
Don't worry if your green fingers are a little out of practice, because our team of expert gardeners are on hand to guide you through every seed, tool and shrub. This March, we're leaving the cold behind and welcoming the brighter days. For now, the focus is on regrowth and rearranging your prided patch of green. Before we begin, it's a good idea to tidy up your garden and give it some TLC. Whether you're planting your flowers, fixing your fence, or simply mowing your lawn, we'll be with you every yard of the way.
Buy your Plant Plugs now and place on a windowsill to give them a chance to grow before they need planting out.
Begin the first weeding session of the season, pulling out any obvious weeds that have suddenly sprung up.
When mild enough, and if the lawn is showing signs of growth, give it the first light cut of the season with this Petrol Lawn Mower, ensuring you rake first to remove any dead leaves and moss, and keep blades on their highest setting.
Make room for new growth in your borders by cutting back old, dead foliage.
As the weather improves throughout the month, it's your first real opportunity for planting out. Start propagating cuttings in our Premium 4 Tier Growhouse.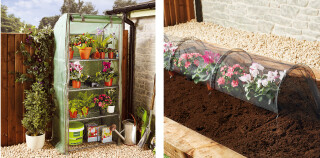 Be green in the garden and install a Water Butt to make the most of available rainfall and reduce the cost of watering in season.
Give fences and decking a fresh coat of preservative, and don't forget the shed you meant to do last year!
Keep providing birds with fresh water and food, who need a little help with cold weather. Remember to clean out birdboxes now so they will be ready when the birds are ready to nest.
Warmer days are the ideal time for pressure washing patios, decking areas and your garden furniture. Look out for our 2.2kW Pressure Washer on sale online and in-store soon
Our top picks for March
For larger lawns, our Petrol Lawnmower is ideal, and a steal at just £179.99. If you're looking for convenience, our Potting Bench is the perfect accessory to plant with ease and store your garden equipment, all for just £29.99. When it comes to growing, our 210L Water Butt Set at £28.99 and great value Propagator Sets will keep things blooming and fresh all season long. Visit our online Garden Store for more handy equipment.