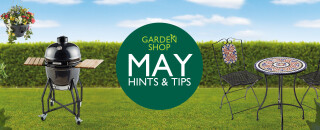 Gardening Hints and Tips for May
Welcome to our gardening blog
Month by month Aldi will provide the inspiration and expert know-how you need to ensure your garden looks its best. This month it's time to start getting your garden ready for barbecue season and enjoying your garden with family and friends. So, don't miss our amazing offers on garden décor, lighting, planters and furniture in our Garden Event, online from 29 April and in store 3 May.

As the weather improves, you can start enjoying more time outside with family and friends and making the most of the work that you have invested in your garden in the earlier months. It's also a great time to add a few finishing touches with planters, trellis' and lighting, not to mention some new furniture. Here's a little inspiration to get you started...
Keep control of plant and flower growth with twine and ties. Top tip: Use a Willow Trellis to support climbing plants.
Treat yourself to some new planters and fill with colourful summer bedding plants. Our Rattan Effect Animal Planters are a fun option!
Update your garden furniture so you can eat in the sun in style. From our Wooden Garden Table and Chairs, to a stylish Aluminium Glass option, find the style to to suit your space in our Garden Shop.
Create a stunning water feature in your garden so you can enjoy the soothing sounds of running water while you're relaxing.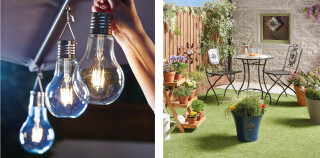 Use solar lights to mark pathways, flower beds or highlight key features in your garden. Add some evening magic with our solar lighting collection here.
Make a Summer centerpiece the whole family can enjoy with our colour-changing Solar Wind Spinner Stake.
Get ready for summer entertaining with a new gazebo that will keep your guests cool and dry whatever the weather.
Prepare your grill for the perfect barbecue weather. Bank Holidays and barbecues are a match made in heaven. Now's the time to make sure yours is clean and ready to go.
Don't miss our Big Garden Event 3rd May.
Our top picks for May
Get ready for summer entertaining with this amazing Outdoor BBQ Oven, exclusive to Aldi. Add some finishing touches to your outdoor space with this Mosaic Bistro Set and plant those summer blooms in these stylish Rattan Effect Planters. Don't forget, you can order all your must-have gardening equipment direct from our amazing new online Garden Shop.
Shop all your garden needs