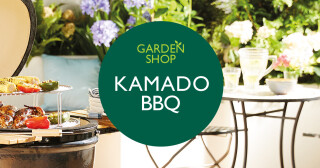 The Kamado Egg BBQ. Amazing flavours, amazing value.
With ALDI's Kamado Egg BBQ, you can enjoy seriously good barbecuing at a seriously amazing price! The Kamado Grill is seen as the ultimate BBQ, using an egg-shaped ceramic grill and oven based on ancient Japanese designs, it gives smoky, rich flavours whatever you cook. If you've not cooked with one before though, don't worry – there's a brief beginners' guide to the egg smoker and BBQ below.
Kamado BBQ Grill
Based on an ancient Japanese design, the unique double-walled insulated shape gives meat, fish and vegetables a deliciously rich, smoky flavour and superb taste. It's amazingly versatile, and once you've tried Kamado cooking you'll never go back!
How To Cook With A Kamado Grill
A Kamado grill and oven is really versatile, cooking at low heat smoking, baking, roasting, grilling, searing and more. Each method uses different heat and airflow, indirect or direct heat or cooking at different heights – so to help you explore the possibilities, here's our quick Kamado cooking 101 guide!
Charcoal
Only use good quality lumpwood charcoal for the best results – instant light charcoal and pre-formed charcoal briquettes both contain chemical additives that could taint your food.
Heating up
Try to get all the charcoal burning before you add grates or ceramic heat deflectors – use heat-resistant gloves to spread the lumps around the base for an even burn.
Lid down
Apart from when you're adding, removing or turning your food, keep the lid closed – it keeps the heat in the Kamado and stops your food drying out.
Searing and grilling
To sear steaks or grill in the normal way, keep the base and chimney vents open and let the heat intensify. If it gets too hot, close the top vent a little.
Roasting
You need a constant medium temperature, so half-close the base and chimney vents – for more heat simply open them a little. Add the heat deflector to create consistent heat throughout the oven.
Baking
Keep vents half-open for constant medium heat, and you can bake just like you would in your indoor oven! Just add the heat deflector and use a pizza stone or baking tray on top of the primary grill.
Low and slow
With vents slightly open for a slow charcoal burn and lower heat, use the heat deflector and cook higher in the oven to slow roast big joints or try pulled pork or shredded beef recipes.
Kamado smoking
Soak wood chips in wine, juice or beer for different flavours and place in the charcoal or in a foil tray. Keep vents nearly closed and use the heat deflector – for more heat, open the vents a touch.
Never take a portable barbecue – or lit charcoal – into an enclosed space like a tent or caravan due to the risk of Carbon Monoxide poisoning.
Carbon Monoxide (CO) is a colourless, odourless, tasteless, poisonous gas produced by incomplete burning of carbon-based fuels, including gas, oil, wood and coal. Carbon-based fuels are safe to use. It is only when the fuel does not burn properly that excess CO is produced, which is poisonous. Watch out for these symptoms: Mild Headache, Dizziness, Nausea, Vomiting, Fatigue or Drowsiness.
Shop all your garden needs