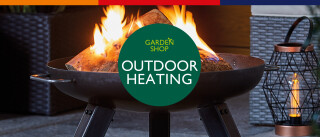 Enjoy your garden for longer with outdoor heating
Whether it's to relax after a hard days' work or to entertain friends, enjoying lazy summer evenings in the garden is even better if you can enjoy it in the warm, soothing glow of a real log fire. The good news is that our superb quality outdoor heating choices offer a winning combination of attractive practicality and heart-warming value.
Fire Basket
Enjoy cosy nights in the back garden with this stylish fire basket. Its traditional design and matte black colour compliment any garden décor, and the included chrome plated cooking grill transforms a nice fire into a mini BBQ. Order yours today.
Steel Fire Pit
This oxidised Fire Pit is perfect for making the most of your outdoor space. Finished with a naturally rusted industrial-style appearance it has 3 stunning metal legs and oiled steel bowl. Approx. 60 x 29cm.
Shop all your garden needs