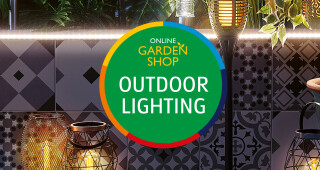 Our Online Garden shop is now closed for 2021. Come back in Spring 2022!
Outdoor Lighting
Our amazing range of outdoor lighting comes at an amazing price. So why not bring a magical glow to your garden this summer. We've got just what you need to show borders, pathways and patios in their very best light. And the whole range is easy to install and maintain too.
How to style your outdoor lighting
Beautiful solar lighting ideas for the patio, pathways and garden will help you transform your outdoor space.
Solar Light Bulb String Lights


You can create great depth to your garden with clearly define zones, from a dining spot to a water feature. Like these pretty solar string lights. Also perfect for your patio.
Solar Crackle Lights
Colour-changing lights

Go for smart spotlights or colour-changing lights in walls and pathways to light the way. Light a pathway to give your garden structure. Try up-lighters to accentuate architecture and water features.
Solar Fence Lights


A fence is an ideal framework for hanging lights with ease. It will commonly offer a backdrop for your social area and offer great benefits for illumination after dark. Also great for highlighting garden borders.
Solar Coloured Lantern Globe lantern

Clever lighting is the key ingredient for bringing wow-factor to your garden at night. Try a Globe Lantern for a candle-like glow to help create a magical space that can be enjoyed even when the sun's gone down.
Shop all your specialbuy needs

Discover a whole range of amazing things with incredibly small prices.