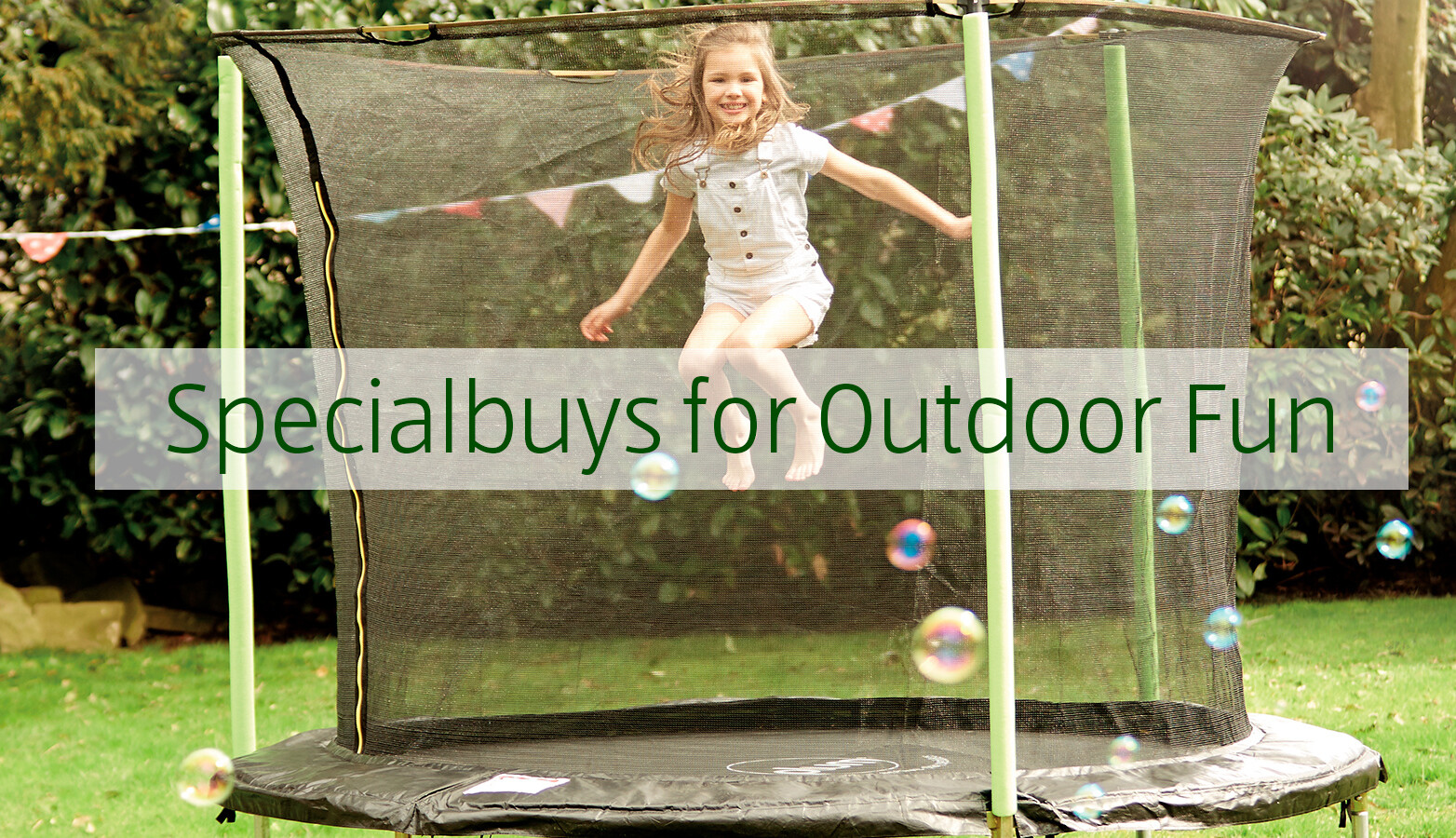 Play outside this Summer with our outdoor toys
Bouncy Castle
Value to bounce about! Another amazing Specialbuy.
Bouncy Castle
This amazing small bouncy castle will be the highlight of your kid's summer and will give them endless hours of outside fun. It's easy to put up and is big enough for 2 children aged 3-6 years.
Trampolines
The perfect way to get your kids to bounce off all their energy whilst having fun. All our Trampolines come with their own safety enclosures to give you added peace of mind.
10ft Trampoline
Suitable for children aged 6-12, this easy assembly 10ft Trampoline with enclosure is the perfect way for your kids to bounce off their energy. Its unique 2G enclosure offers added safety.
8ft Trampoline
If our 10ft Trampoline is a bit too big for your garden, our 8ft Trampoline is perfect for a smaller garden and still offers hours of fun.
Junior Trampoline
Our Junior Trampoline is the ideal way to introduce youngsters to the fun and fitness benefits of bouncing, whilst building their confidence as they learn to Trampoline. Once assembled it measures approx. 1.37x1.37x1.8m.
Don't miss out on your Trampoline accessories
Our accessory kits have everything you need to keep your Trampoline protected and safe. Kits are available for both the 10ft and 8ft Trampoline and include a Trampoline Cover, Trampoline Ladder and Trampoline Anchor Kit.
Adventure Playhouse
A childrens playhouse for an amazing Specialbuy price!
Garden Playhouse
This outdoor playhouse is the perfect place for your kids to hide out in and use their imagination to escape into their own little world. Made from European FSC certified wood, it's easy to maintain and suitable for children aged 3-8 years.
More fun and games
Make sure your kids are making the most of the good weather with some amazing outdoor games. From Nest Swing and 3-In-1 Swing Ball, to Mud Kitchen and Toddler Ride-On-Car, they'll be out for hours enjoying having fun.