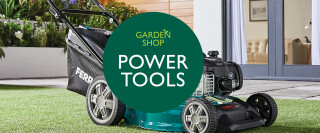 Great value power tools for your garden
Let our great and affordable power tools take away a lot of the hassle from your outdoor tasks this summer. Whether you need a Trimmer, Brush Cutter, Pressure Washer or all 3 - we will have something to help you complete each item on your outdoor checklist. With the latest technology and designs, our power tools are high-spec whilst still being affordable, meaning you can get the garden you are dreaming of, for a reasonable cost and limited amount of effort! Shop our power tool range today!
Electric Garden Blower and Vacuum
Speed through your garden tasks with this essential Electric Garden Blower and Vacuum. With 3 functions in 1, including suction and shredding, this tool will help you tidy any outdoor area from blowing leaves and fresh mown grass to collecting them.
Petrol Hedge Trimmer
Achieve a professional finish with our petrol hedge trimmer. It's lightweight, well balanced and comes with a brilliant range of features including dual action blades and anti-vibration mounts. Order yours today.
SOLD OUT ONLINE
Brush Cutter
Make easy work of cutting saplings and clearing dense undergrowth with this amazing 2-in-1 Brush Cutter. Features include 32.6cc 2-stroke engine, Anti-vibration design and shoulder harness for extended use. Order today.
SOLD OUT ONLINE
Pressure Washer
Compact, powerful and portable. This pressure washer is all you need for clean patios, decking, paths and plenty more. Comes with hose connector system, auto start/stop and extendable handle for easy use. Order today.
SOLD OUT ONLINE
Shop all your garden needs