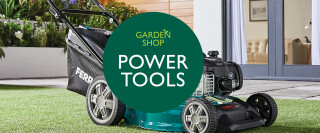 Great value power tools for your garden
Let our great and affordable power tools take away a lot of the hassle from your outdoor tasks this summer. Whether you need a Trimmer, Brush Cutter, Pressure Washer or all 3 - we will have something to help you complete each item on your outdoor checklist. With the latest technology and designs, our power tools are high-spec whilst still being affordable, meaning you can get the garden you are dreaming of, for a reasonable cost and limited amount of effort! Shop our power tool range today!
Petrol Hedge Trimmer
Achieve a professional finish with our petrol hedge trimmer. It's lightweight, well balanced and comes with a brilliant range of features including dual action blades and anti-vibration mounts. Order yours today.
Brush Cutter
Make easy work of cutting saplings and clearing dense undergrowth with this amazing 2-in-1 Brush Cutter. Features include 32.6cc 2-stroke engine, Anti-vibration design and shoulder harness for extended use. Order today.
Shop all your garden needs