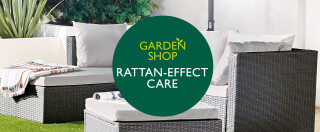 Rattan-effect garden furniture care
All these delightfully longer days have got us all dreaming of outdoor living, so it's time to make sure your furniture is looking summer ready. Whether you're looking to buy some new Aldi rattan-effect garden furniture, or you want to get your current Aldi set looking as good as new, we've put together a go-to rattan-effect guide to help you clean and maintain your rattan-effect garden furniture set.
Strong, lightweight and easy to care for
Rattan-effect furniture is really easy to care for. As well as being water-resistant, if looked after properly it will retain its colour for years to come. Amazing right? Here's a few handy rattan-effect furniture care tips to ensure it lasts the test of time.
Wipe it down

Clean up spills with warm soapy water, then rinse clean and dry naturally

Brush it off

Get rid of loose dirt with a vacuum brush – great for getting in to nooks and crannies

Avoid direct sunlight

Constant sun can bleach and damage your furniture, so store away from direct sunlight

Cover and protect

Store your cushions indoor and protect your rattan-effect from wet and cold weather
How to clean rattan-effect furniture
Use a damp, soft cloth and furniture polish to clean your chairs. Only use a little drop of washing up liquid and warm water to remove dirt. Top tip: if you find mould it can be removed easily with a combination of hot water and a little bit of bleach.
Quality garden furniture, all for amazing value
Rattan-effect garden sets offer amazing value for money because they are so strong and lightweight. You'll find amazing value on this season's must-haves, like our Corner Rattan-effect Sofa and Rattan-effect 3-piece Bistro set.
Shop all your garden needs