Gender Pay
At Aldi we know that the success of our business is due to the dedication and commitment of our 34,000 colleagues across the UK, who deliver outstanding service to our customers every day.
We are one of the leading employers in the retail sector and are proud to offer fair, equitable pay to all colleagues. In fact, we are the UK's best paying supermarket and our entire salary structure is designed with fairness in mind.
At Aldi, your pay depends solely on the type of work you do and how long you have worked for the business.
A new Store Assistant, for example, will earn a market leading hourly rate of £9.10 nationally (£10.55 inside the M25) rising according to length of service — no other factors, including gender, are considered. The same approach is followed for all roles at Aldi.
We are proud that we pay men and women exactly the same for doing the same job.
Gender pay gap vs. equal pay gap - what's the difference?
It's important to distinguish between gender pay and equal pay as the two are often confused. Gender pay is the difference between the average pay of men compared to the average pay of women and is expressed as a percentage difference.
Equal pay, on the other hand, is the legal requirement for men and women to be paid the same for performing the same work or work of equal value.
At Aldi, we're proud to be one of the few companies that pay male and female colleagues who do the same roles exactly the same amount at every level of our business.
What is Aldi's gender pay gap?
Overall, positive progress has been made with Aldi's gender pay gap between 2017 and 2018. The representation of women in the upper quartile has increased from 30% in 2017 to 34% in 2018 and the mean has reduced from 11.5% to 9.7%. The median has increased from 4.8% in 2017 to 7.1%.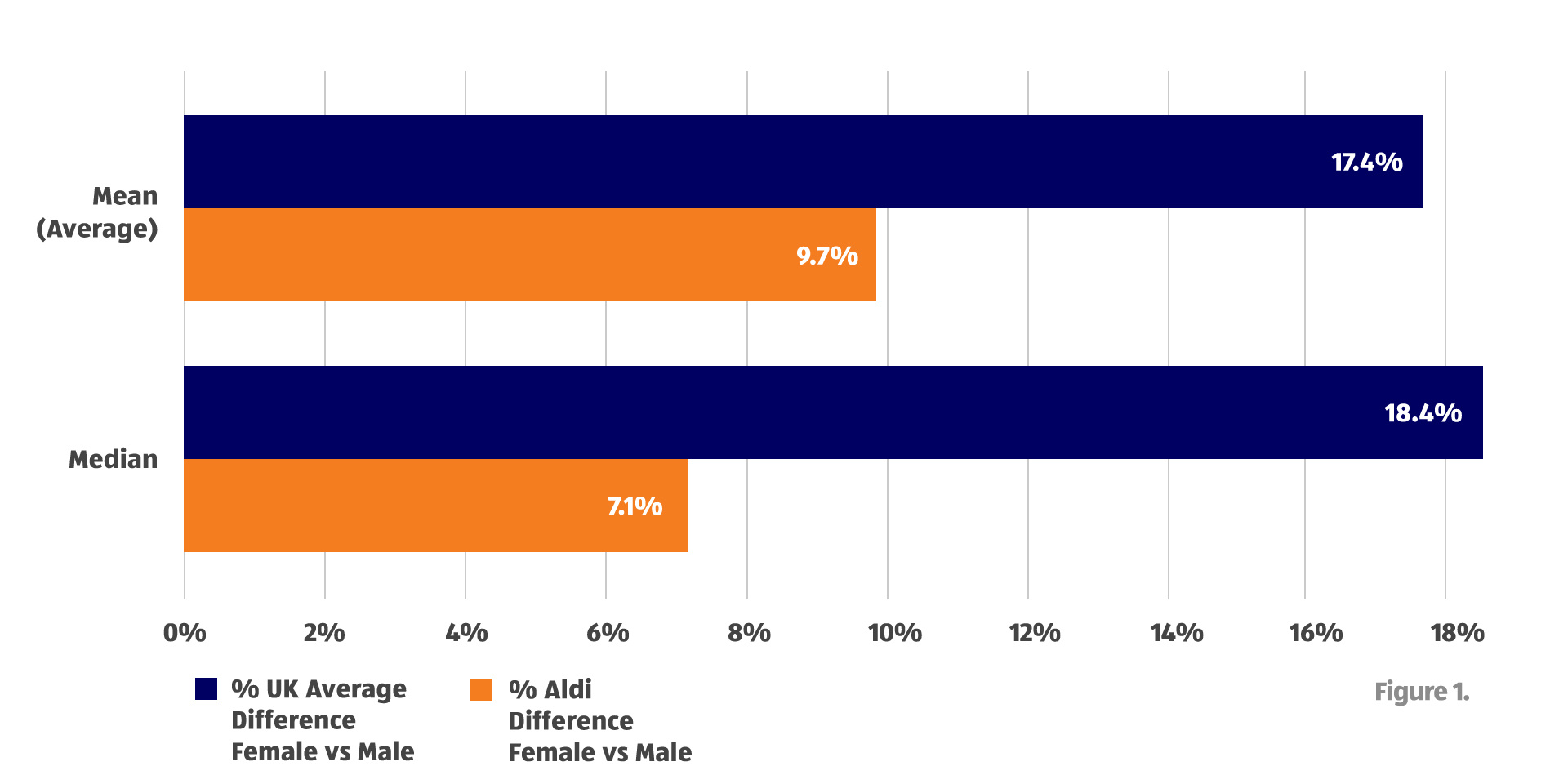 Aldi gender pay by quartiles
As part of the gender pay gap reporting process, employers are required to split their workforce into four groups based on pay, and to show the proportion of male and female colleagues in each quartile.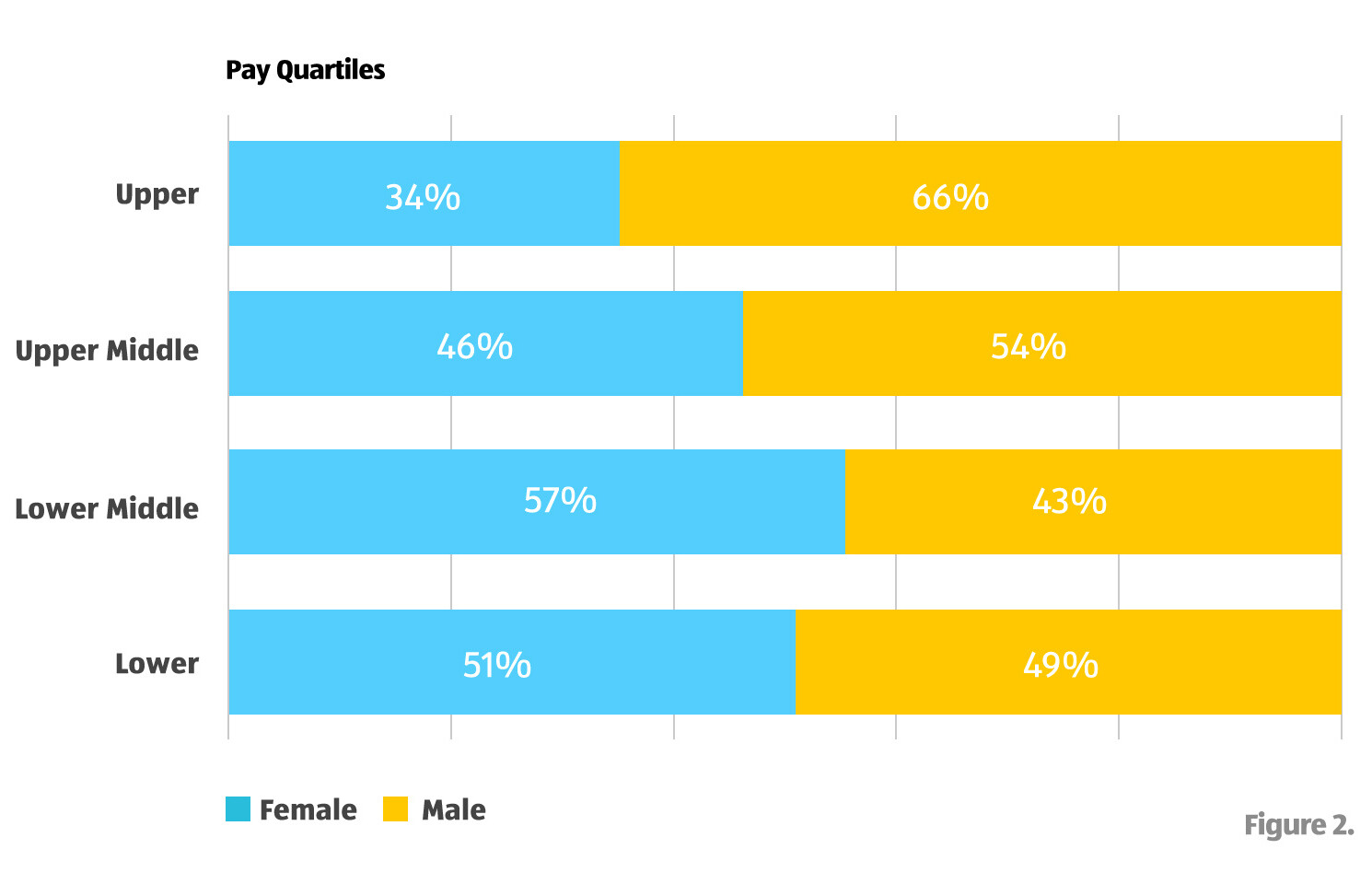 In the last year we have seen an increase in the number of women employed in the upper pay quartile of our business.
Bonus Pay
Aldi does not pay bonuses on individual performance to either male or female colleagues.
Our commitment to closing the gap
Our pay structure is completely gender neutral and while our mean and median figures are significantly better than the UK average, for the second year running, we know there is always more we can do to close our gender pay gap and this is something we are absolutely committed to.
As a result, we will continue to take proactive steps to drive and support female representation across the business.
These initiatives are already making a positive difference, with the proportion of female colleagues in our upper pay quartile increasing by 4% between 2017 and 2018.
Beyond the gender pay gap, our focus is ensuring Aldi is a diverse and inclusive employer, with a colleague population which reflects the communities they serve. Aldi has always been an organisation where people can thrive and develop regardless of their gender or background and we will continue to offer fair, equitable pay to all colleagues.
I confirm that the data published in this report is accurate. James Hutcheson. Managing Director — Corporate Finance and Administration.