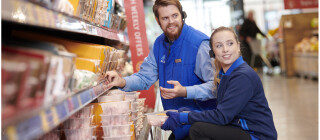 Gender Pay Gap
At Aldi we know that the success of our business is due to the dedication and commitment of our 33,000 colleagues across the UK, who deliver outstanding service to our customers every day.
We are one of the leading employers in the retail sector and are proud to offer fair, equitable pay to all colleagues. In fact, we are the UK's best paying supermarket and our entire salary structure is designed with fairness in mind.
At Aldi, your pay depends solely on the type of work you do and how long you have worked for the business.
A new Store Assistant, for example, will earn a market leading hourly rate of £9.40 nationally (£10.90 inside the M25) which rises according to length of service — no other factors, including gender, are considered. The same approach is followed for all roles at Aldi.
We are proud that we pay men and women exactly the same for doing the same job.
Gender pay gap vs. equal pay gap - what's the dfference?
It's important to distinguish between gender pay and equal pay as the two are often confused. Gender pay is the difference between the average pay of men compared to the average pay of women and is expressed as a percentage difference.
Equal pay, on the other hand, is the legal requirement for men and women to be paid the same for performing the same work or work of equal value.
At Aldi, we're proud to pay male and female colleagues who do the same roles exactly the same amount at every level of our business.
What is Aldi's gender pay gap?
Aldi's mean gender pay gap is 10.83% and our median is 7.78%. Overall, this is a slight increase on our results last year, however, we are committed to closing the gap and we know that there is a lot that we can still do to reduce this.
The differences between 2018 and 2019 have been driven by changes in our split of male and female colleagues across our workforce. Our gender pay gap will continue to change and evolve as we continue to grow as a business.

Aldi gender pay by quartiles
As part of the gender pay gap reporting process, employers are required to split their workforce into four groups based on pay, and to show the proportion of male and female colleagues in each quartile.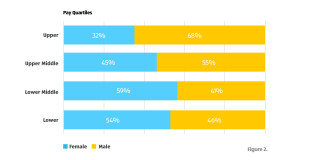 Bonus Pay
In 2019, bonuses were awarded to some colleagues based on length of service. No performance-based bonuses were paid.
The mean bonus gap was 4.59% and there was no median gap.

The majority of colleagues that received a bonus were female, reflecting the composition of our colleagues that work in stores.
Proportion of Male and Females receiving a bonus as a percentage of the total number of Male and Female employees
Our commitment to closing the gap
Aldi has always been an organisation where people can thrive and develop regardless of their gender or background and we continue to offer fair, equitable pay to all colleagues.
Our pay structure is completely gender neutral, but we know there is always more we can do to close our gender pay gap and this is something we are absolutely committed to.
We continue to be committed to closing the gap and have developed a comprehensive Diversity and Inclusion Strategy to drive progress in all areas of the business. A key focus of this strategy is to understand our gender pay gap figures and allow our position with this topic to be one of continual improvement.
Last year, we mapped our gender representation at all levels and formats across our business which enabled us to examine female representation at every level. As a result, our Diversity and Inclusion Strategy includes many exciting initiatives to attract, retain and support the progression of female talent within Aldi.
Beyond the gender pay gap, our focus is ensuring Aldi has a colleague population which reflects the communities they serve. At Aldi, we believe that understanding, respecting and valuing the uniqueness of our employees and customers makes us stronger. That's why we are committed to a diverse and inclusive workforce. Our diverse teams foster creativity and innovation and help us achieve more together.
I confirm that the data published in this report is accurate.
James Hutcheson
Managing Director — Corporate Finance and Administration.