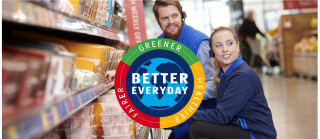 Gender pay gap
At Aldi we know that the success of our business is due to the dedication and commitment of our 36,000 colleagues across the UK, who deliver outstanding service to our customers every day. The effort they have put in to help feed the nation during the Covid-19 pandemic has only served to make that more apparent.
We are one of the leading employers in the retail sector and are proud to offer fair, equitable pay to all colleagues. In fact, we are the UK's best paying supermarket and our entire salary structure is designed with fairness in mind. At Aldi, our colleagues' pay depends solely on the type of work they do and how long they have worked for the business.
A new Store Assistant, for example, will earn a market-leading hourly rate of £9.55 nationally (£11.07 inside the M25) which rises according to length of service. Like all roles at Aldi, no other factors are considered.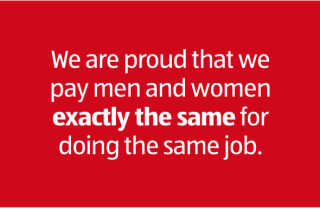 Gender pay gap vs. equal pay gap
What's the difference?
It's important to distinguish between gender pay and equal pay as the two are often confused.
What is Aldi's gender pay gap?
Aldi gender pay by quartiles
As part of the gender pay gap reporting process, employers are required to split their workforce into 4 groups based on pay, and to show the proportion of male and female colleagues in each quartile.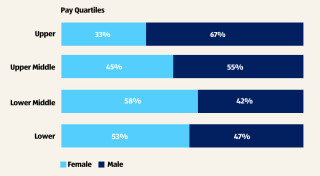 Bonus pay
During the period our 2020 figures report on, bonuses were awarded to some colleagues based on length of service. No performance-based bonuses were paid.
Proportion of males and females receiving a bonus as a percentage of the total number of male and female colleagues.

Our commitment to closing the gap
Aldi has always been an organisation where people can thrive and develop regardless of their gender or background and we continue to offer fair, equitable pay to all colleagues.
Our pay structure is completely gender-neutral, but we know there is always more we can do to close our gender pay gap and this is something we are absolutely committed to.
We have a comprehensive Diversity and Inclusion Strategy that drives progress in all areas of the business. A key focus of this strategy is to understand our gender pay gap figures and drive continual improvement.
Gender representation at all levels and formats across our business is mapped, enabling us to identify where new programmes and initiatives will have the most impact. As a result, we have implemented many exciting initiatives to attract, retain and support women's progression within Aldi.
Beyond the gender pay gap, we recognise the importance of diversity and inclusion and understand that Aldi needs to better reflect all of the communities we serve, as well as providing more support to minority and underrepresented groups.
That's why we are currently making positive changes to the way we attract, recruit and support our people. We want to ensure that Aldi is a diverse, inclusive and supportive place to work for everyone.
James Hutcheson, Managing Director — National Finance and Administration