Crisp, zesty and irrestistably refreshing.
Gin, Lime & Cucumber Cooler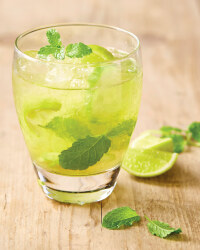 Recipe Information
Ingredients
Ingredients:
50ml London Dry Gin
6 slices Cucumber, peeled
1/2 fresh Lime, cut into 2 wedges
40ml Del Rivo Apple Juice
12 fresh Mint leaves
1 tsp The Pantry Granulated Sugar
Crushed ice cubes
Find your ingredients online on Click & Collect or find your nearest store using our Store Finder.
Method
Pour the gin and apple juice into a large cup or small bowl. Add the sugar, squeeze in the lime juice.
Add the mint leaves and the cucumber slices and, with the end of a wooden spoon, muddle/crush the mint and cucumber slightly to release their flavours. Pour into a glass, add plenty of crushed ice, drop in the lime halves and stir.
Serve garnished with a sprig of mint.