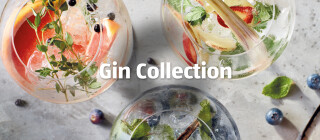 Raise a glass to the Aldi Gin Collection
Shop our amazing gins online with free home delivery.
The perfect finishing touch
A G&T wouldn't be complete without a few finishing touches of garnish to bring out the bursting flavour. Check out our guide below to find the perfect garnish to match your gin.
Garnish your gin to bring out its flavour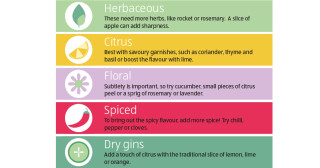 Choosing the right glass
A specific gin needs a specific glass to enhance the flavours. The classic tall glass is great for long drinks, such as a Tom Collins or simple G&T, whilst a balloon glass is designed to enhance the aromas in a gin. For neat gin use a tumbler and for a traditional Martini, use a classic angular glass.
Gin Glasses Assortment
We have a smart selection of handmade gin glasses on sale now. Choose from Cosmopolitan, Balloon, Short or Long Glasses and make this summer one to remember.
Create your own case
Now you can mix and match spirits with wine when creating your own personalised case. Choose 6 or more and we will deliver them straight to your door!
Mix it up
Whether it's to impress your guests or simply just to treat yourself, why not do something different and create a gin cocktail with any of our amazing recipes.