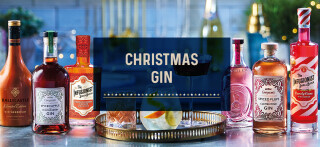 Gin's in for Christmas!
The festive season is the perfect time to sit back and sip on a glass of gin from our award-winning collection. We have an impressive range of flavours and liqueurs to explore, with classic bottles and new exciting tastes to discover too. Order a case today and we'll deliver it straight to your door for free.
Find a festive gin
From family gatherings to festive house parties, there's a perfect gin for every occasion in our collection. Pick out a favourite bottle or try something new this year.
Amazing gin flavours for every taste
Our gin collection includes some of the most exciting and inventive flavours from around the world. From Seville orange and Persian lime to 'Gin'gerbread gin cream, you'll find a flavour to love this festive season.
Award-winning gins
If you're looking for premium gins at impressive prices, our award-winning collection is all you need. Explore the full range to find your favourite.
Our expert's top gin picks
Sam Caporn, our resident expert, has picked out three fantastic bottles from our gin range just for you. Find out why she loves them so much and order them for your own Christmas celebrations.
Gin cocktails for Christmas
Gin goes well with almost everything and we'll prove it to you with our exciting range of cocktail recipes. Try them with friends this Christmas and you'll all be making more.