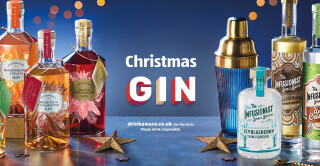 It's be-gin-ning to look a lot like Christmas
Why not explore our extraordinary craft gin and gin liqueur collection together? From Icy Blueberry and Spiced Plum & Clementine, to Millionaire's Shortbread and Mulled Winterberry. Learn more about the amazing awards we've picked up for these bottles, and then shop the entire range today. You'll even get free home delivery when you order six bottles or more of our online wines and spirits - cheers to that!
Can you hear the gin-gle bells?
Crisp, refreshing and versatile. Good news. We've got a fabulous, festive gin for every day of the week. Not to mention lots of top tips on fresh garnishes and sparkling mixers. And while you're in a gin-gle mood, why not choose a bottle or two from our craft gins collection to gift?
Amazing gin cocktails you have to try
Delicious and delightful – follow our quick, simple gin cocktail recipes to create an amazing menu of gin cocktails that you and your friends will love.
Award-winning quality
Our gins are renowned for their outstanding taste and amazing quality. Winners of multiple awards and beating many leading brands, our range is perfect for Christmas. Try our refreshing, zesty and smooth District Coconut & Lime Gin or the rather festive Raspberry & Thyme.
Make it a happy homemade Christmas
The best Christmases are homemade and full of things made straight from the heart, like the perfect Christmas pud, some personal Christmas tree decorations or a little DIY Christmas gifting. We've got plenty of inspiration to help you make this a homemade Christmas you'll never forget.