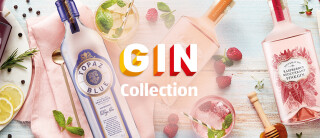 All you need to know about gin
You're in for a treat with our gins. Everything, from the fun, fresh flavours to the look of the labels, is made to excite your senses and create cocktails you can't beat. Try our full Haysmith's collection today and discover amazing flavours like our brilliant Blood Orange & Peach gin.
How to make the ultimate gins
Mixing amazing gin drinks is easier than ever. We've broken down some of your favourites and shown you how to make them at home. Pick your bottle, add a mixer and finish with a garnish. Simple and delicious. Enjoy.
The Fruity G&T
Something a bit different
Need more gin-spiration?
Take a flip through our cocktail menu for exciting drinks you never thought of and a few classics too. You'll be amazed at what you can create.