A new take on an old favourite. Traditional ginger biscuits with tempting fruit and Royal icing.
Ginger Biscuits with Royal Icing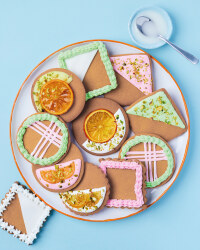 Recipe Information
Ingredients
For the ginger biscuits
100g Demerara Sugar
100g Golden Syrup
70g Unsalted Butter
250g Plain Flour
2 tsp Bicarbonate of Soda
1 tbsp Freshly Grated Ginger
1 tsp Ground Ginger
For the Royal icing
2 Large Egg Whites
500g Icing Sugar
1 tbsp Lemon Juice
For the candied fruit
250g Caster Sugar
250ml Water
1 Orange, thinly sliced
1 Lemon, thinly sliced
2 Limes, thinly sliced
Method
Pre-heat the oven to 170oC Fan/Gas Mark 5.
In a small pan, melt the butter, demerara sugar and syrup until smooth then add the freshly grated ginger.
Sift the flour, bicarbonate of soda and ground ginger into a bowl. Then, combine with the melted ingredients to form a stiff dough.
Leave the dough to cool, then knead for a couple of minutes until smooth.
Wrap the dough in cling film and refrigerate for 30 minutes.
Then, roll out on a floured surface until 0.5cm thick.
Cut out the biscuit shapes with 8cm shaped biscuit cutters and place on lined baking trays.
Bake for 8-10 minutes until light golden brown, then leave to cool.
While the biscuits are cooling, thinly slice the fruit and add into a pan with the sugar and water.
Now leave to simmer for 30-40 minutes until the fruit has candied in the syrup.
Then, remove and leave to dry on a cooling rack.
Using an electric whisk, beat the egg whites until foamy, then gradually add the icing sugar, one spoonful at a time, until fully mixed.
Add the lemon juice and whisk for a couple more minutes until the icing is glossy and firm.
If you're colouring the icing, divide between small bowls and add the colour one drop at a time.
If the icing is too firm to pipe, just add a drop of water until you achieve the right consistency, then place into piping bags fitted with piping nozzles.
Once the biscuits have cooled, decorate with the icing and candied fruit.