For those chillier days, create this tasty wreath decorated with icing and chocolate.
Gingerbread Autumn Wreath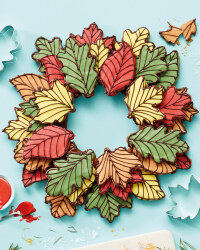 Recipe Information
Ingredients
250g Unsalted Butter
200g Brown Sugar
7tbsp Golden Syrup
600g Plain Flour
2tsp Bicarbonate of Soda
4tsp Ground Ginger
For the decoration
500g Icing Sugar
1 Egg
1 tsp Lemon Juice
50g Dark Chocolate, chopped
Red, Yellow and Green Food Colourings
Method
Pre-heat the oven to 220°C/Fan 200°C/Gas Mark 7 and line a cookie sheet with baking paper.
Melt the butter, sugar and golden syrup over a gentle heat.
In a separate bowl, combine the flour, bicarbonate of soda and ginger.
Pour the butter mixture into the dry ingredients and stir to form a dough.
Roll out the gingerbread dough to the thickness of a pound coin.
Cut a large circle out of the dough using a dinner plate as a template.
Place a saucer in the centre and cut a second circle out of the dough to create the base of the wreath.
Bake in the oven for 10-12 minutes before leaving to cool on a wire rack.
Re-roll the unused dough and cut out an assortment of leaves. Bake in the oven for 5-10 minutes.
Make the icing by beating the egg white until peaks start to form.
Stir in the icing sugar and lemon juice, adding a little water if the icing seems to thick.
Separate the icing into 3 bowls and tint with the various food colours.
Dip the leaf cookies into the icing and leave to set.
Place the chocolate in a small bowl and melt in short bursts in the microwave.
Transfer the chocolate into a piping bag, snip off the end with a pair of scissors and pipe leaf vein patterns on each of the leaf shaped cookies.
Use the remaining melted chocolate to stick the leaf shaped cookies to the wreath base.
Leave to set and store in an airtight container until serving.