Glen Marnoch Single Malt Whisky
Product Ref: 011476260663400
Product Information
By law we cannot sell this product to anyone under 18
Glen Marnoch double cask release has richness & complexity as a result of careful ageing in American oak casks, followed by further maturation in imported Caribbean rum casks.
First cask - Maturation in American white oak casks for a minimum of 3 years by our master distiller gives the whisky a rich, mellow character with notes of malt, vanilla and honey.
Second cask - The whisky is then transferred to imported Caribbean rum asks for further ageing, this adds layers of complexity, giving spiciness with a long finish.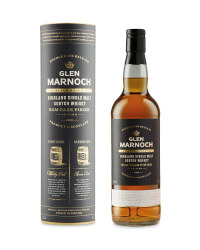 ABV:

40%

Bottle Size:

70cl

Type:

Whisky

Units Per Bottle:

28

Units Per Serving:

1