The best things in life are free from… like this Gluten Free Squash Pizza.
Gluten Free Squash Pizza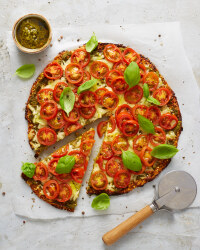 Recipe Information
Ingredients
Pizza Base:
1 Butternut Squash
100g Worldwide Foods Red and White Quinoa
1 Egg
Pizza Toppings:
2 tbsp Specially Selected Green Pesto
75g Grated Mozzarella
100g Cherry Tomatoes (sliced) 4g Fresh Basil
Method
1. Preheat oven to 200C/180F Fan/Gas Mark 6.
2. Halve the butternut squash and bake face down for 40 minutes until the flesh is soft.
3. Leave to cool a little then scoop out the flesh and mash. You should have around 550g of mashed squash.
4. Stir through the quinoa and egg then spread on a lined, 12-inch pizza baking tray. It should be about 1cm thick.
5. Bake for 30 minutes until the base has dried out (if you want an extra dry base you can flip it over and bake for 5 more minutes).
6. Spread the pesto on the pizza base and top with the mozzarella, sliced tomatoes and basil.
7. Bake for another 10 minutes until the cheese has melted.