A light and refreshing dessert for warm summer nights.
Gluten Free White Chocolate Meringues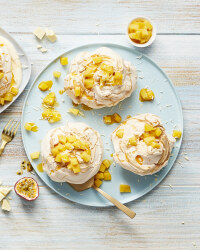 Recipe Information
Ingredients
4 x Medium Egg Whites
225g Caster Sugar
65g White Chocolate
1 x Mango
1 x 3 pack Passion Fruit
200ml Double Cream
Method
Pre-heat the oven to 140°C/Gas Mark 1.
Put the egg whites into a clean, large bowl and whisk until you have stiff peaks.
Gradually add the caster sugar a spoonful at a time while whisking until the mixture is thick and glossy.
Melt 40g of the chocolate in a bowl over simmering water and make sure the bottom of the bowl doesn't touch the water.
Line a large baking tray with some non-stick baking parchment.
Divide the meringue into 4 mounds on the baking sheet.
With a fork, swirl the chocolate onto the tops of the meringue, gently forming some peaks but don't mix it in.
Bake in the oven for 90 minutes.
Meanwhile, peel and chop the flesh from the mango into small chunks.
Cut the passion fruit in half, scoop out the flesh and put into a sieve.
With the back of a spoon, push through the pulp into a bowl and discard the seeds.
Mix the mango and passion fruit together.
Finely grate the rest of the white chocolate.
Whip the cream until just holding its shape.
Divide the cream between 4 plates and put a meringue on top.
Spoon the mango and passion fruit coulis on top, sprinkle with the grated chocolate and serve.