These Mediterranean treats are fantastic as starters, lunches and party snacks.
Goat's Cheese and Parma Ham Bruschetta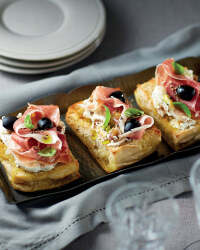 Recipe Information
Ingredients
1 Sunnyhills Ciabatta Loaf
1 log The Cheese Emporium Goats Cheese
50g The Pantry Soft Dried Figs
8 Slices Specially Selected Prosciutto Di Parma Ham
8 Solesta Pitted Black Olives
30ml Specially Selected Olive Oil
Find your ingredients online on Click & Collect or find your nearest store using our Store Finder.
Method
Pre-heat the oven to 190oC/350oF/Gas Mark 5.
Cut the loaf in half lengthways, then cut each half into four.
Place the pieces, cut side up, on a baking tray and drizzle with half the olive oil.
Bake in the oven for 10 minutes.
Meanwhile chop the figs finely and mix with the goats cheese.
Cut the olives and Parma ham slices in half.
Once the bread is cooked, divide the goats cheese mix over the slices (spread whilst the bread is still hot).
Arrange two halves of Parma ham on each slice, garnish with two halves of black olives and drizzle with the remaining oil, season with black pepper.