Add a fruity finish to chicken kebabs with this sweet n' spicy recipe
Golden Kebabs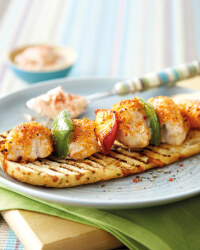 Recipe Information
Ingredients
2 x Nectarines or Peaches
1 x Green Pepper
1 x 375g pack Diced Chicken Breast
1 x 90g pack Pepper Seasoning
150ml Crème Fraiche
Mild Chilli Powder - ½ tsp
1 x 2 pack Focaccia - Tomato and Olive
Method
Pre-heat the oven to 200°C/400°F/Gas Mark 6
Cut the nectarines or peaches into quarters and remove the stone.
Cut the pepper into 8 chunks.
Alternate the chicken, peppers and nectarine/peach pieces on 4 wooden or metal kebab skewers.
Sprinkle the seasoning over the 4 kebabs and bake in the oven for 20 minutes.
Meanwhile to make the chilli dip, in a bowl combine the chilli powder with the crème fraiche.
Cut the focaccias in half lengthways, and griddle or toast.
Serve each kebab on a slice of the toasted bread with a dollop of the chilli dip.
(Based on using 4 pack Nectarines)